Six-Game Winning Streak Ties A Bucs Record
January 17th, 2021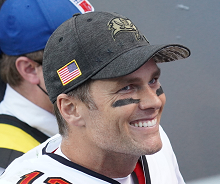 If you're wondering if you've ever seen this kind of Buccaneers football, well, you've only seen it once before if you're full-fledged grownup.
Tampa Bay closed this regular season with four consecutive wins and now they've racked up two in the playoffs.
The only previous six-game winning streak in franchise history was in 1999, when the Bucs had a great regular-season run before losing in the NFC Championship game to the Rams. Those Bucs were 3-4 and bolted to a 9-4 record before finishing 11-5.
That's how long it's been.
Joe's getting texts and email from Bucs fans worldwide saying they're in tears tonight, not just because of the big win against the Saints but because these fans believe the Bucs can take this season the distance.
Joe's right there with those guys. They can make it seven and get to the promised land.