61 Yards Combined For Gronk, Mike Evans, Antonio Brown & Chris Godwin?? No Problem.
January 17th, 2021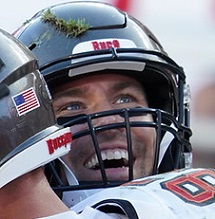 Look at that headline.
Read it again.
It's a mind-blower that the Bucs were able to roll up 20 first downs on the Saints without a penalty causing one of them.
The Saints shut down the big guns of the Buccaneers' receiving game, and still the Bucs rolled up 30 points.
Now that's depth and defense and a running game, and a quarterback making little or no mistakes.
It should tell you the Bucs are a damn good football team. Keyword, team.
This is why people talk about being able to run the football. When a stout defense shuts down your explosive studs, you need that run game to have a prayer, and you need complementary receivers to get the job done. When it comes to the second-tier targets, the Bucs are loaded.
Cameron Brate, Scotty Miller and Tyler Johnson teamed up for more than the Bucs' four superstars at receiver and tight end.
How exactly is Green Bay going to stop this Bucs offense? Maybe the weather will shut down the Bucs; Joe can't think of anything else that's going to get the job done.