Rondé Barber Named A Hall Of Fame Finalist For The First Time
January 5th, 2021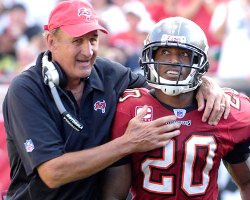 It's official. The votes from the esteemed panel of 40-plus selectors are in.
Buccaneers icon Rondé Barber has busted into the finalist level of the Hall of Fame selection process for the first time.
Today, Barber made the cut to the final 15 modern-era candidates that will be presented for a vote later this month.
Below are the 15 ex-players who will be presented for a vote to decide the five-man (maximum) class of 2021.
Sage JoeBucsFan.com columnist Ira Kaufman is the Tampa Bay area's lone Hall of Fame voter, and he will present the case for Barber and John Lynch.
Jared Allen, DE – 2004-07 Kansas City Chiefs, 2008-2013 Minnesota Vikings, 2014-15 Chicago Bears, 2015 Carolina Panthers
Rondé Barber, CB/S – 1997-2012 Tampa Bay Buccaneers
Tony Boselli, Left Tackle – 1995-2001 Jacksonville Jaguars, 2002 Houston Texans (injured reserve)
LeRoy Butler, S – 1990-2001 Green Bay Packers
Alan Faneca, Guard – 1998-2007 Pittsburgh Steelers, 2008-09 New York Jets, 2010 Arizona Cardinals
Torry Holt, WR – 1999-2008 St. Louis Rams, 2009 Jacksonville Jaguars
Calvin Johnson, WR – 2007-2015 Detroit Lions
John Lynch, S – 1993-2003 Tampa Bay Buccaneers, 2004-07 Denver Broncos
Peyton Manning, QB – 1998-2011 Indianapolis Colts (injured reserve 2011), 2012-15 Denver Broncos
Clay Matthews Jr., LB – 1978-1993 Cleveland Browns, 1994-96 Atlanta Falcons
Sam Mills, LB – 1986-1994 New Orleans Saints, 1995-97 Carolina Panthers
Richard Seymour, DE/DT – 2001-08 New England Patriots, 2009-2012 Oakland Raiders
Zach Thomas, LB – 1996-2007 Miami Dolphins, 2008 Dallas Cowboys
Reggie Wayne, WR – 2001-2014 Indianapolis Colts
Charles Woodson, CB/S – 1998-2005, 2013-15 Oakland Raiders, 2006-2012 Green Bay Packers
So will Barber get in?
Well, Joe's impressed that voters stepped up and put Barber in the final-15, so Joe believes anything is possible in this diverse and super-accomplished field.
Charles Woodson is a nine-time Pro Bowler and a Super Bowl winner who made a phenomenal transition to safety late in his career. Joe hates to type it, but Woodson had a better career than Barber. And that's just one example of the challenge to get Barber in this year.
Ira Kaufman likes to say Barber defined the nickel corner position and has freakish statistics, in addition to the quality of his play. So he's certainly a hell of a candidate.
Will Barber take votes from Lynch, and vice versa? Of course!
It's a political process and that kind of thinking would define politics: a voter deciding he/she doesn't want to vote for two Buccaneers from the same team in one year because it doesn't feel fair.