"He's Demanding Out Of Everybody All The Time"
January 5th, 2021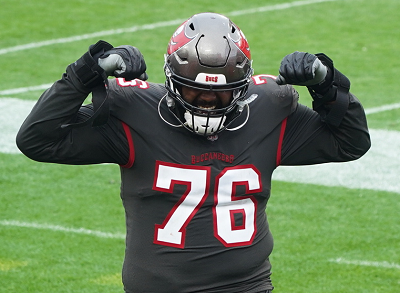 Joe's ears really perked up when Donovan Smith starting talking in a pensive, hush tone.
Things got real serious for a moment on the Buccaneers Radio Network this week when Smith was asked about the daily impact of Tom Brady on the team.
The veteran left tackle struggled for words, and even asked fellow guest Ali Marpet for help expressing himself.
"It's just this, you almost get this type of a vibe where like it's just always just greatness," Smith said of Brady's way. "He is demanding out of everybody all the time, doing the right thing, doing their job, communicating and stuff like that. I think COVID makes it really difficult to really gauge, you know, how we would normally be throughout the locker room and through the facility with him. But it's been pretty great, he mixes and mingles with a lot of guys – you know offense, defense and what not. So it's been great to have him around."
Joe sincerely was struck by how seriously Smith took the Brady question in what was a very light-hearted interview. He was asked about other players and reacted very differently.
Joe hates looking ahead to next season with a playoff game ahead, but Joe sure hopes Brady is willing to join the Bucs for 2021 spring practices, which he didn't always do in New England. A full and normal year of Brady could really forge a long-term culture change at One Buc Palace.