Ring The Bell On Round 2
January 20th, 2021
BY IRA KAUFMAN
Todd Bowles aced his test last week. Now, he's bracing for the NFL's most formidable exam.
Tampa Bay's defense was superb at the Superdome as Bowles dialed up an aggressive scheme that dared Drew Brees to beat the Bucs downfield.
Buc fans applauded the decision to veer away from a soft zone and implement smothering man coverage.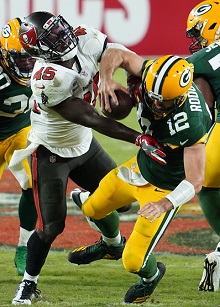 With few exceptions, every New Orleans pass was contested and Brees had no answers in what was likely his final NFL game.
But here comes Mr. Rodgers, brimming with swagger, and that brings a new set of challenges. The biggest difference? Aaron Rodgers makes you cover every blade of frozen grass at Lambeau. He can make every throw from every conceivable angle — and that's what is keeping Bowles and his defensive coaches up late into the night this week.
Brees can credibly be labeled the most accurate passer this league has ever seen, but he never had Rodgers' arm and at this stage of his career, Brees simply wasn't a threat on the deep ball.
Bowles constricted the field, taking away all those quick, short throws that move the chains. And with Michael Thomas playing hurt, the Saints lacked the weapons to hurt Tampa Bay's young secondary.
The Packers are a different story.
Fine Cheese
Yes, Green Bay was embarrassed in Tampa in Week 6, but teams, even No. 1 seeds, have bad days. A pick-6 by Jamel Dean turned momentum Tampa Bay's way after an early 10-0 deficit and as the game progressed, Rodgers had the look of a beaten man.
That performance should give the Bucs some confidence, but it looks more like an aberration because the Packers went on to become the NFL's highest-scoring team. Rodgers went on to have an MVP season and he is surrounded by play-makers.
With Thomas hobbled, Brees had to rely on 33-year-old Emmanuel Sanders. Rodgers has the luxury of throwing to Davante Adams, arguably the best wide receiver in the league.
In his prime at the age of 28, Adams averaged 98 receiving yards per game during the regular season and grabbed nine passes for 66 yards and a touchdown against the Rams, with Jalen Ramsey shadowing him all over Lambeau.
With all due respect to Carlton Davis, he's no Jalen Ramsey.
Adams is the natural focal point, but he's got help. Tight end Robert Tonyan is a major red-zone threat with 11 TD catches. Allen Lazard and Marques Valdes-Scantling combined for 66 receptions, 1,141 yards and 9 touchdowns.
And Rodgers is adept at finding his backs on the flanks, especially against the blitz. Aaron Jones and Jamaal Williams combined for 78 catches, with Jones particularly adept on screens.
That's a lot for Bowles to consider — besides Green Bay's robust ground attack.
The Bucs clearly got inside the helmet of Rodgers on Oct. 18, but he's been unflappable the rest of the way. That was the only time the Packers have been held under 22 points.
Green Bay's defense, while decent, is a notch below New Orleans. You can run on the Packers, which sounds promising, but you have to stay close if you want to stay balanced. That's not easy when you're facing an offense that converts third downs at a 49.4 percent clip.
No wonder Green Bay topped all teams in time of possession.
Despite all these daunting numbers, here's another: the Packers are favored by only three points. They might be a different team from Week 6, but so are the Bucs. Tom Brady has thrown only one pick during this six-game winning streak and the offensive line is stout.
Bowles is known as a coach who puts his players in the best position to succeed. We shall see.
The same game plan used in New Orleans won't work at Lambeau, so Bowles must adapt. A Super Bowl berth is theirs if the Bucs can frustrate Rodgers once again.
It's almost time for the ultimate exam. Pencils up, heads down.
Begin.