NFL Season Record In Reach For Brady
January 2nd, 2021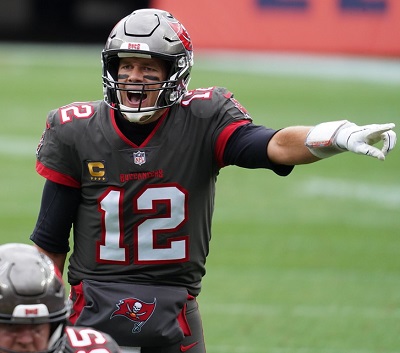 It's hard to believe, but another single-season NFL record is in reach for Tom Brady on Sunday against the Falcons.
Sensational Chargers rookie QB Justin Herbert owns the rookie record for touchdown passes in a season. He's got 28 with one game to play.
Peyton Manning, however, is the guy who threw the most TD passes in his first year with a new team. That was in 2012, when Manning tossed 37 TDs against 11 interceptions for the Broncos.
Brady now has 36 touchdown passes for Tampa Bay, the franchise record, and likely will thieve the aforementioned all-time mark from Manning tomorrow.
For the historical record, the more impressive season, Joe believes, is when Kurt Warner threw 41 touchdowns for the 1999 Rams.
That was Warner's first season as a starter after leaving the Arena league, but he was with the Rams as a backup the previous season. Of course, that makes it even more impressive that the '99 Bucs held Warner to just 11 points in the NFC Championship game that year — and somehow the Bucs managed to lose.
Joe is fired up for Brady to put his name in the regular-season history books one more time.
Enjoy today's new Ira Kaufman Podcast, presented by Bill Currie Ford