Dixie Chicks At Bucs, TV Map
January 2nd, 2021
So, will you get to see the Bucs host the Dixie Chicks in the 2020 regular season finale on free TV? Joe is here to help.

Well, it appears that unless you live in Florida or Georgia, it is highly unlikely you will get the game broadcast over your local FOX affiliate. In fact, not all of Florida or Georgia will have the game free, if you can imagine!
Most of the nation will be tormented by an NFC East game featuring the losing Giants playing the losing Cowboys. The only interest from a Bucs fan's perspective is that if the Cowboys win, it increases the chances of the Bucs playing the Cowboys a week from Sunday in the Bucs' first playoff game in 13 years.
Of course, Bucs fans can head over to Big Storm Brewery in Clearwater, Odessa or Cape Coral to watch the game, or visiting your neighborhood Hooters is always a wise move.
The preseason voice of the Bucs, Chris Myers, along with Greg Jenning,s will handle the call for FOX.
(Streaming information will be included in "Gameday Tampa Bay" post scheduled to publish here at midnight.)
As always, TV coverage maps are courtesy of 506sports.com.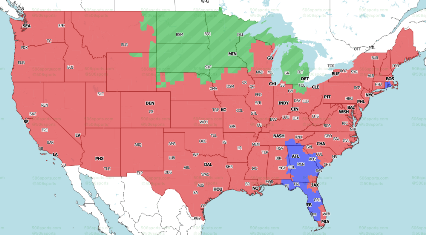 Blue: Atlanta @ Tampa Bay
Red: Dallas @ NY Giants
Green: Minnesota @ Detroit