Ndamukong Suh: "We Understand How We Struggled Against Them"
January 28th, 2021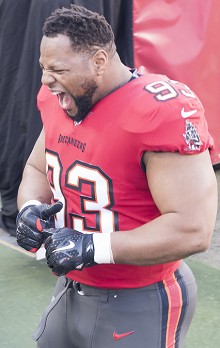 Even if the Kansas City Chiefs took their foot off the gas against the Bucs after jumping out to a 17-0 lead in Week 12, that's irrelevant.
The Bucs walked away from that 27-24 loss with a lot of confidence.
That's become obvious through so many interviews of Tampa Bay players as the Bucs-Chiefs Super Bowl approaches.
One of those players is Ndamukong Suh, who paid a visit to Ray Lewis and Michael Irvin on Inside The NFL this week.
"We understand how we struggled against them," Suh said with confidence about the Chiefs offense. "Really, the problem for us was we ran out of time."
Suh went on to talk about a key will be the Bucs' front-7 keeping Patrick Mahomes in the pocket. And with a big grin, he added how happy he is to have Vita Vea back to eat double teams that would come his way.
As for the Bucs thinking about hosting a Super Bowl, Suh said that's been on players' minds for many weeks. There hasn't been a pure one-game-at-a-time mindset. "It's been a huge conversation … a conversation that's been steadily had," he said.
Joe's pulling for Suh to have a big game. A "W" in his second Super Bowl as the anchor for the NFL's best run defense, and with six sacks, should cement Suh's future enshrinement in Canton.
Hustle to reserve your table @BigStormBrewing Clearwater for Bucs-Chiefs. All the details are via this Facebook link. https://t.co/PavpYyECx8
Don't wait!
Joe is not the only guy who loves the food, the viewing/sound & THE BEER!
Great covered outdoor seating & indoors. pic.twitter.com/iClEmgGKVF

— JoeBucsFan (@JoeBucsFan) January 28, 2021