More Spotlight Coming In 2021
January 4th, 2021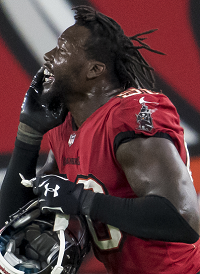 Lost in the euphoria of our beloved Tampa Bay Buccaneers finishing 11-5 is the team's slate of opponents set for 2021.
The Bucs will face the NFC East next season, which is the darling of TV network suits because of the big markets — and big draws — from Philadelphia, New York, Dallas and D.C.
Also, the Bucs will face the AFC East, which means another date with New York and what will be a ridiculously hyped Bucs-Patriots game in Foxborough. If the Bucs don't win the Super Bowl, count on that game being opening day on Sunday or Monday Night Football.
The Bucs finished second in the NFC South, so they'll also face the Rams and Bears next season — two more huge-market teams.
And if the the NFL approves a 17-game season, which is expected, then the rumor on the street is the Bucs will play their second-place counterpart in the AFC South. That's the Indianapolis Colts, and it would deliver the networks an intriguing Old Man Bowl, Tom Brady versus Philip Rivers.
What next? A return to Hard Knocks?