Arians Not Geeked About Saturday Game
January 4th, 2021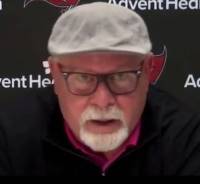 Most teams and players get extra amped to play under the lights. Sometimes even coaches.
But this one time, Bucs coach Bucco Bruce Arians wasn't popping champagne bottles when he learned last night that the Bucs would be playing Saturday night to open the playoffs.
This meant not only one less day for Mike Evans to recuperate from his freshly hyperextended knee, but also it's unlikely that stud linebacker Devin White will be able to play.
White last week tested positive for The Sickness. Everything would have had to go just right for White to clear NFL protocols if the game with the Redskins was held on Sunday.
A Saturday game pretty much means White won't be available for the Bucs' first playoff game in 13 years.
"It looks that way right now," Arians said of White missing his second straight game. "I was not overly excited about [a Saturday draw]. It could potentially cost us a couple of players who could play Sunday."
Arians said he expects NFL sack king Shaq Barrett to return and that cornerback Carlton Davis "should" be ready to rock on Saturday.
Mike Evans, of course, is day-to-day. Arians said the goal, "hopefully," for Evans, who ran in a pool today, is a return to practice on Thursday.