Mike Evans Says Dwayne Wade, LeBron James Reached Out
January 13th, 2021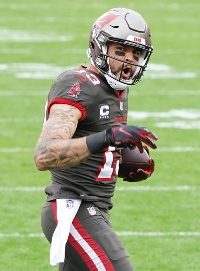 Bucs fans will always remember the moment this month that Mike Evans became the first NFL receiver to record at least 1,000 receiving yards in each of his first seven seasons.
Today, Joe asked Evans what notable names reached out to show him love for the feat.
Those who know Evans are well aware that he's a huge NBA fan. Joe once heard Evans asked about his first big purchase after signing a massive contract. Evans replied that he scored courtside seats to NBA games and bought his mom a watch.
Previously, Evans also shared his memories of meeting his boyhood heroes, NBA star Dwayne Wade and LeBron James, who once approached Evans at a basketball game to show him respect.
Today, Evans, with a big smile in his voice, told Joe that both Wade and James reached out to congratulate him on the new NFL record.
Evans had been tied for the record with Hall of Fame receiver Randy Moss, who has coached up Evans in past offseasons. Moss didn't reach out when a new mark was set, per Evans, but that's cool with the greatest Bucs receiver in history. He added that Moss is a great friend and it's all good.
Joe thinks the NBA greats reaching out is damn cool. As the Saints' third-string quarterback likes to say, "Real recognize real."
---
TAMPA TWO looks at the high-stakes Saints-Bucs matchup coming Sunday. All the fun and insight with Derrick Brooks and Ira Kaufman is presented by The Identity Tampa Bay and Joe.