Lavonte David Explains, "We Wasn't Locked In"
January 16th, 2021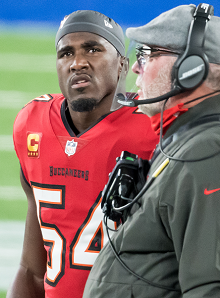 Perhaps the greatest and purest insight into the Buccaneers' losing mentality during The Lost Decade was delivered by Lavonte David after the Bucs tanked their season opener in 2015. Joe still can't believe David's historic explanation.
Today, David gave some insight into the 2020 season.
The nine-year veteran and future Buccaneers Ring of Honor member was visiting SiriusXM NFL Radio and was asked what went wrong against the Saints in Weeks 1 and 9, two blowout losses.
The mentality was all wrong, David replied.
"I just believe we wasn't locked in. We wasn't locked in, man. We were feeling ourselves a little bit and just going out there trying to play instead of understanding what we have to do," David said. "So definitely, you know, this weekend is going to be very different from what you guys saw before and what we put out there before."
Wow. It might be time for Joe to crack a Bromosa from Big Storm Brewery early today. Read that take from team-captain David again; it's painful.
Maybe Joe could see the Bucs being a little off and overly confident on opening day with Tom Brady's debut. Maybe. But certainly there was no reason to be "feeling ourselves" and "not locked in" for the rematch on Sunday Night Football with the NFC South crown on the line.
Oh, well. Old news.
But how the heck did that happen?
If Tom Brady is the leader Bucs officials and players and ex-teammates say he is, then there's no way the Bucs come out with the wrong mentality on Sunday night. Joe is not concerned.
---
Who's ready to watch the NFL on Saturday and Sunday and feast on amazing gumbo @BigStormBrewing Clearwater with an ice cold Big Storm beer? Damn, Joe cannot wait!
Willing to bet @IKaufman76 is there when the doors open Saturday for this special feast.https://t.co/vGcehHQRHu pic.twitter.com/8vEiDkaZNN

— JoeBucsFan (@JoeBucsFan) January 15, 2021