Ira Kaufman's 10 Takeaways From Bucs-Saints
January 18th, 2021
BY IRA KAUFMAN
Youth wasn't just served Sunday evening — youth ruled.
Everywhere you looked, a recent Buc draft pick was making a critical second-half play as the Bucs emerged as the only road team to win in the divisional round.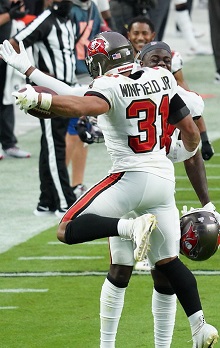 Tip your hat to Antoine Winfield and Tyler Johnson for key contributions as Tampa Bay reeled off the game's final 17 points. Not too shabby for the 2020 draft class.
And who can forget about the No. 5 pick of the 2019 draft? From start to finish, Devin White ruled as the best player on the field, making the Saints pay dearly for his perceived Pro Bowl snub.
If this indeed marked a teary farewell for Drew Brees, it was an ugly sendoff. He's a first-ballot Hall of Famer for sure, but on this night, Brees looked like a poor man's Mike Glennon.
Sean Payton would have been better off starting Jameis Winston because Brees was no match for the aggressive scheme Todd Bowles implemented.
"Coach Bowles said we were gonna be feisty," White said, and feisty the Bucs certainly were, forcing turnovers while forcing Brees to throw into windows that looked more like portholes.
If this game doesn't help Bowles land another head coaching job, nothing will.
The Bucs will take a 6-game winning streak into Green Bay and it's no coincidence that Tom Brady has thrown only one pick in that span – an interception that wasn't even his fault. As Brady said after the game, when you finish plus-4 in the turnover differential, you're not going to lose many matchups.
The Bucs capitalized on the takeaways and the advantage in field position to end a 5-game losing streak against their division rivals. With Brady expected to return in 2021 and the Saints likely to feature a new starter under center, Tampa Bay should be favored to end a 4-year reign atop the NFC South by New Orleans.
Here's how the Bucs strode into the Big Easy and made things so hard for the home team:
* Given the circumstances and the quality of the opponent, this was the best game by a Tampa Bay secondary since the Super Bowl victory 18 years ago. Led by Carlton Davis who had a magical night in making Michael Thomas disappear, virtually every pass was contested except for the 56-yard gimmick throw by Winston. When the defensive backs weren't making Brees miserable, Lavonte David and White were draping themselves over tight ends and running backs. Brees finished with a passer rating of 38.1, which hopefully will be the game-time temperature at Lambeau Field.
* Winfield, the precocious second-round pick out of Minnesota, may have provided the game's signature play late in the third quarter.  Ahead 20-13, New Orleans was facing 3rd-and-2 from the Saints 45 with all the momentum. The Bucs sideline had no energy as Brees completed an 8-yard pass to Jared Cook, but Winfield punched the ball loose and White recovered, leading to a tying score.
* It's easy to forget about Johnson's remarkable reception early in the fourth quarter, but you shouldn't. It was huge. Brady was looking at 3rd-and-11 from his own 20 when he floated a ball to his right. A well-covered Johnson made a lunging sideline catch that would have made Cris Carter proud. That dazzling grab led to a go-ahead FG.
* Leonard Fournette and Ronald Jones combined for 125 yards on 30 carries against a very stingy rushing defense. That production made Brady's play-action fakes more effective and kept Tampa Bay ahead of the chains as the Bucs converted 8-of-17 on third down.
* The offensive line in general, and Donovan Smith in particular, enjoyed another solid effort. Smith has been eager to atone for that rough outing against Trey Hendrickson in Week 9. Revenge was sweet as Hendrickson failed to make the post-game stat sheet. On the other side, Tristan Wirfs manhandled Cameron Jordan … again.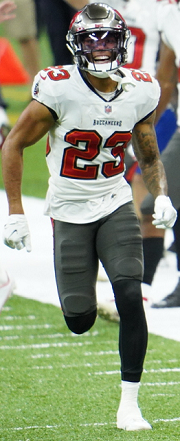 * White registered 10 solo tackles besides the fumble recovery and a late interception that sealed the deal. He's confident, perhaps even cocky, but Buc fans don't care as long as he backs it up. At the moment, his game is speaking more loudly than his mouth.
* Tampa Bay improved to 8-2 on the road, a testament to this team's mental toughness. The Bucs never lost their poise Sunday, even after a long punt return provided the Saints with some early juice. Five of the 20 first downs registered by New Orleans came courtesy of Tampa Bay penalties, but overall the Bucs played with better discipline. Holding the Saints to a field goal on their first possession generate a positive vibe.
* Can't say enough about how Bowles empowered his defense with a game plan shaped to this particular matchup. He ordered tight man coverage, figuring Brees lacked the arm to beat Tampa Bay deep. No more passive zone defense, hoping to keep everything in front of you. Admittedly, soon to be league MVP Aaron Rodgers is a different animal, but for one night, this young secondary was a sight to behold.
* Brady didn't have to be great, and he wasn't. Still, he didn't give New Orleans any short fields with giveaways. He protected the football, as he does so magnificently, and as a result, the Bucs enjoyed an average drive start at their own 41, compared to an average New Orleans drive start at the Saints 28. In a game this tight, field position mattered.
* Does anyone really believe inclement weather at Lambeau might be an issue for Brady, who played two decades in Foxborough? The Bucs made the Packers look really bad three months ago, to the point where Aaron Rodgers appeared to quit. Brady might not quit until he's 50. The Bucs are now one win away from making Super Bowl history. They've got a youngry defense and they've got No. 12.
Live underdog? Heck yeah.