"Help Wanted" Plea Won't Be Answered
January 8th, 2021
BY IRA KAUFMAN
It's not going to happen again for the Washington Football Team.
They were known as the Redskins on Jan. 7, 2006 when Joe Gibbs led a 10-6 wild-card club into Raymond James Stadium for an opening-round playoff matchup.
The NFC South champion Bucs were 11-5 and favored by 2 1-2 points to advance into the divisional round.
Despite limiting Washington to 120 total yards, Tampa Bay fell 17-10 in a grim, self-destructive display that marked the final game for Rod Marinelli and Mike Tomlin as Jon Gruden's assistant coaches with the Bucs.
Chris Simms was sacked three times and picked off twice as Washington proved opportunistic. LaVar Arrington intercepted the first pass Simms threw and his return to the Tampa Bay 6-yard line set up a Clinton Portis TD dash on the next snap.
Later in the first quarter, Sean Taylor returned a Cadillac Williams fumble 51 yards for another score. The Bucs couldn't overcome that early deficit, despite limiting Washington to nine first downs and only 25 yards passing.
"Right now, it's really tough," Derrick Brooks said after the bitter setback. "I just never thought we'd be ending our season here."
Fifteen years later, Washington is still looking for another playoff win. Once again, a Dan Snyder team faces the Bucs armed with a popgun attack, hoping for substantial help from the opposition.
Not this time.
Tom Brady isn't Chris Simms and this Buc team has excelled in protecting the football during this 4-game winning streak. The only giveaway in the past month came when the ball went in and out of the arms of Scotty Miller last week.
Brady is 30-11 in the postseason because he knows each possession is precious. If the Bucs don't give Washington's offense short fields Saturday night, the Bucs will be moving on.
Ominous, Ridiculous Prediction
NFL Network analyst DeAngelo Hall predicts Washington will sack Brady 10 times at FedEx Field. Poor DeAngelo. He feels he is being paid to be outrageous, but he doesn't really believe what he's saying.
Who does?
Tampa Bay's offensive line has been very sturdy down the stretch and Brady is difficult to drop. Chase Young and Montez Sweat will register a few hits, but Brady will land the bigger blows throughout the evening.
With Shaq Barrett returning, Tampa Bay's pass rush will be more disruptive than Washington's. Alex Smith may be the Comeback Player of the Year, but he's not mobile anymore and he threw more interceptions than TD passes in 2020. Taylor Heinicke, who may take most of the snaps under center, was signed to Washington's practice squad a month ago.
He boasts all of one NFL start.
To pull off a major upset, Washington will need the Bucs to play sloppy football.
It's difficult to envision Washington marching 80 yards down the field against a pretty solid Buc defense. If the Bucs don't turn the ball over, they'll roll over the home team and post their first playoff win since shredding the Raiders in the Super Bowl.
You can bet Ron Rivera has been raising the bar for Washington's defense this week. Rivera wants an ugly game marked by Tampa Bay turnovers and penalties. That's the winning formula for the home team, but this is a bad matchup for Washington in that regard.
You'd much prefer facing Mitch Trubisky or Jared Goff rather than Brady, who has been picked off only 35 times in 41 playoff starts.
While Brady is peaking, Chase Young is freaking. He says he wants to tangle with the GOAT, so have at it. Rumble, young man, rumble.
But remember one thing: All those years ago, it was the Bucs beating the Bucs. Washington still has those "Help Wanted" stickers pasted on helmets.
Not this time.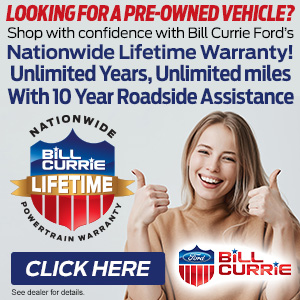 Amazing offers at BillCurrieFord.com. Don't blow it!
.