Go Bears!
January 10th, 2021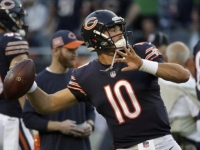 So much on the line today for our beloved Buccaneers — and Bucs fans — in New Orleans.
Joe is hoping the Saints get rolled by the Bears for three reasons.
First, a quick and disappointing exit by Drew Brees means he's probably a sure bet to retire after the season. Joe can't wait to stop seeing Brees torture the Bucs. Bring on Taysom Hill or America's Quarterback, Jameis Winston, to lead New Orleans next season. Joe likes those odds over 16 games, versus having Brees in there.
Second, and most important, a Bears win means the Bucs will face the Rams — at home — next weekend in an NFC "final-four" playoff game.
What a gift that would be for long-suffering, game-attending Bucs fans, and Joe likes the matchup of Tom Brady getting a second look at the Rams' No. 1-ranked defense.
Yeah, the Rams' defense is excellent, but in many ways it's a better matchup for Brady than the Saints' suffocating crew.
Third, well, that one is a tie. Joe would love to see Jameis watch the Bucs celebrate a playoff win after all his dancing and jawing for the cameras following the Saints beating the Bucs 38-3 two months ago in Tampa. But Joe also be extremely satisfied watching Alvin Kamara, Michael Thomas and Brees share a field for the first time since mid-November today — and lose.
Joe can almost smell how smug the Saints are now because they're healthy and coming off two blowout wins.
Let's go Bears!