Father Dungy: Brady Getting Better
January 10th, 2021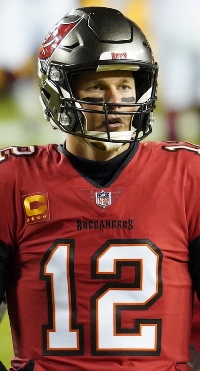 A little flashback for some of Joe's readers that never caught this.
At Joe's first training camp of 2020, Joe didn't know quite what to expect from park-violating, home-invading, NFLPA-ignoring, down-forgetting, handshake-stiffing, jet-ski-losing, biscuit-baking Bucs quarterback Tom Brady.
Previously, Joe had rarely watched Brady and maybe saw Brady play more for Michigan than New England.
The Belicheats are a handful of teams Joe loathes, so Joe won't watch many if any of their games. Yes, that means a football freak like Joe even missed a few Super Bowls. Joe watches sports for entertainment, not for aggravation and acid reflux.
The first thing that jumped out about Brady in person was his freaking accuracy. Nearly every pass was on the money.
The second and surprising thing? Brady was nimble. He had mobility, not mobile as a mailbox, like Joe had read about Brady with the Belicheats.
Perhaps Joe respects no broadcaster's analysis of Brady more than Father Dungy's, certainly more so than any of Brady's ex-teammates.
Why is that? Well, Brady's ex-teammates aren't journalists and there is no benefit for them to be remotely objective about their old buddy.
(Remember Rob Ninkovich, former Brady teammate, earlier this year raking Bucs coach Bucco Bruce Arians over the coals saying the two are a bad match and Arians needs to be launched? Yeah, real bright, objective analysis there.)
Yeah, Father Dungy, now working for NBC, isn't a journalist, either. But he has no incentive to lie about Brady. Besides, who may know about a crack in Brady's armor more than Father Dungy?
How many gameplans over the years did Dungy craft to defend Brady?
Well, per Dungy, Brady has actually improved his game at 43 years old. In what way has Brady evolved in Tampa? Father Dungy said Brady was never as mobile as he is now.
"What Brady is doing better than when I was coaching against him is moving around in the pocket," Father Dungy said on last night's NBC broadcast of the Bucs' win over Washington. "Just that little step away from the pressure, off the spot but still on target with the throw."
A guy at 43 getting better, more mobile? That's wild to think about but it's true.
How many times have we seen Brady on rollouts this season?
This guy Brady really amazes Joe. And there is no question he's the reason the Bucs are now two wins from their second Super Bowl appearance.