Critical Time For Ronald Jones
January 3rd, 2021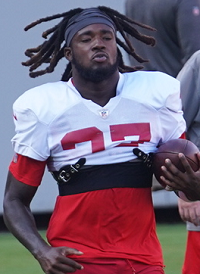 Think for a moment: it was Bucco Bruce Arians who recently admitted publicly that Ronald Jones' "confidence was shot" and in desperate need of repair.
And Arians also has been clear he made great efforts to re-build and maintain that confidence in a player who returns to action today wearing a form of a cast on his left hand — after two missed games nursing a broken finger while having The Sickness.
The Bucs, per Arians' comments on various platforms, want RoJo to get significant work today to shake off rust before the playoffs. And Joe suspects there's a sizable desire inside the halls of One Buc Palace to get RoJo enough carries to have a good shot at a 100 yards rushing so he will hit 1,000 for the season. Why? Because it would skyrocket his confidence.
But Joe's thinking a lot about that cast and the likelihood of RoJo fumbling with it, which could hurt his confidence. It seems RoJo is just one of those players who needs his mind right to succeed.
Arians said on SiriusXM NFL Radio this week that RoJo mostly is a right-hand carrier of the football, so he wasn't too concerned.
Well, Joe is concerned.
Perhaps today, more than anything else besides finding a "W," it's crucial for the Bucs that RoJo have a clean no-turnover game.
GREAT TAMPA TWO episode looking at what Brooks calls a must-win against the Falcons.
Legendary Buccaneer Derrick Brooks is here twice a week on JoeBucsFan.com talking Bucs with The Sage Of Tampa Bay Sports, Ira Kaufman. Analysis and insight presented by The Identity Tampa Bay and Joe.