Choosing A Strategy
January 28th, 2021
BY IRA KAUFMAN
School's out, people.
The Chiefs know what the Bucs want to do and vice versa as this juicy Super Bowl matchup approaches.
These teams are no mystery to each other, having met two months ago in the same venue that will serve as the backdrop for the NFL's showcase game.
Kansas City prevailed 27-24 that afternoon, building a big early lead and holding off Tampa Bay's comeback bid by maintaining possession for the final four minutes. Tom Brady, who threw a pair of fourth-quarter TD passes to Mike Evans, never got his greedy hands on the football in those final moments as Patrick Mahomes frustrated the Bucs with his mobility.
"I learned a long time ago that you don't give the ball back to Tom Brady," says Andy Reid. "Don't give him a shot."
The Chiefs excel at closing big games out. After they erased that 10-point deficit against the 49ers in the Super Bowl, they sent the confetti cascading down with a long TD run that sealed the deal.
The Week 12 game against K.C. marked a turning point for the Bucs. The bye week followed and Tampa Bay hasn't been on the short end since.
The Bucs proved they could hang with the defending champions that day — once Todd Bowles realized he had signed off on an unworkable defensive scheme.
Buc fans can't forget how Tyreek Hill continually torched Carlton Davis, who tried to man up on the league's most dangerous deep threat. Scotty Miller just told Dan Patrick that he's faster than Hill, but that's easy to say when you don't have to cover a blur wearing No. 10.
Valuable Education
By the time Bowles made his halftime adjustments, the Chiefs had rung up 17 first downs and 377 yards. What followed was too little, too late, but Bowles learned a valuable lesson — trying to contain Hill in man coverage with minimal help is a fool's errand.
Mahomes threw for only 103 yards in the second half and had two potential interceptions nullified by penalties. Some of that inefficiency can be due to Kansas City sitting on a lead, easing off the gas.
But the Bucs played a role, too. The Chiefs punted on three consecutive possessions before Mahomes ran out the clock with a couple of back-breaking first downs with scrambles.
The real dilemma for Bowles is that if you relegate too many resources toward stopping Hill, Travis Kelce will make you pay. He's got the size of a tight end with the moves of a wide receiver.
Nobody in the league is more adept than Kelce at finding the soft spots in a zone and keeping the chains moving.
Tony Romo offered some advice to Bowles during the broadcast, saying, "I'd double Kelce and Hill and take my chances."
That sounds like a sensible strategy until you realize the dangers.
"We have so many weapons, it's hard for a team to take them all away," Mahomes says.
I'm not buying it. If you get beat by Mecole Hardman or Sammy Watkins, so be it. It's obvious that Kelce's the guy who stirs the drink for this offense and Hill is the guy who makes defensive coordinators reach for the tequila.
Mahomes couldn't believe his good fortune when that Week 12 game began. He realized Davis had no chance to keep up with Hill on his own. Hill ended up with 13 catches for 269 yards, so it's fair to say Mahomes won't get the same kooky look.
"We don't get that a lot, especially with that guy (Hill) and his ability," Mahomes said after the game. "So when we do, we try to take advantage of it."
The Bucs are going to score their fair share of points Feb. 7. Kansas City's defense isn't as stout as the ones in Washington or New Orleans, so Brady should put up big numbers.
That's why Jason Pierre-Paul and Shaq Barrett loom as the key figures.
Aided by the presence of Vita Vea, they just combined for five sacks against Aaron Rodgers. JPP capitalized on the absence of Green Bay's best offensive lineman, injured left tackle David Bakhtiari, and now he'll be working against another backup left tackle because Eric Fisher is sidelined with an injured Achilles.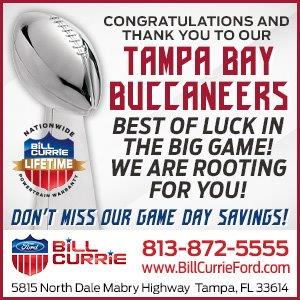 And by the way, right tackle Mitchell Schwartz — a better player than Fisher — is probably still out with a bad back that has sidelined him since Week 6.
Job 1 is to keep Mahomes in the pocket. He's at his best breaking containment and putting incredible pressure on the back seven because he can throw from any angle deep downfield.
Blitzing Mahomes is a risky proposition, but Bowles may not have to send extra pass rushers because Barrett and JPP should own the edges while Vea and Ndamukong Suh provide a sturdy inside push.
The Bucs appear poised to dominate the trenches once again. That's a significant edge and Bowles will have two weeks to fine-tune his strategy.
His first order of business? It was a meeting with Davis, assuring him he'll get by with a little help from his friends.