Non-believers No More
January 28th, 2021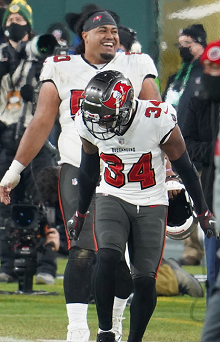 Joe is so loving this Bucs' seven-game winning streak, a team record.
Every day feels like a party in the media with so many people connected to the team talking to the media.
Bucco Bruce Arians explained on national radio that the Bucs didn't always expect to win prior to this season. It's a condition known as a loser mentality. Joe would think about that more, but it's too sobering and sad.
Safety Andrew Adams, who joined the Bucs in 2018, backed up Arians' take during his recent visit to CBS Sports Radio.
"The key changes have been the confidence level," Adams said.
"I just felt like each year the team's confidence level has gone up and this year we're very confident. We take the field, not with the sense of arrogance, but just with a sense of confidence that we're going to win the game and everybody is believing in each other and believing in themselves, which I think goes a long way."
Adams went on to say that when the Bucs struggled and fell to 7-5 this season, "nothing wavered" in the team's preparation other than a greater focus on fast starts. "We didn't strain or put any extra emphasis on one thing or another," he said.
The Bucs lost since.
It is always said that teams must "learn how to win." In the Bucs' case, they were like a bunch of smart third graders struggling to read in a failing public school. Now Teacher of the Year Tom Brady has arrived, and it's all good.
"He gets guys fired up," Adams said of Brady.
Now the Bucs just have to take their winning mindset and execution into one more game. Then history will place them among the great winners of all-time.