Lavonte David + Devin White = Bowman And Willis
January 28th, 2021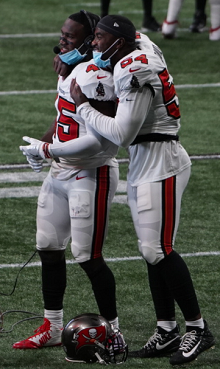 The ferocious, top-10 Bucs defense racked up all kinds of numbers during the regular season.
Tampa Bay entered the postseason ranked fifth in forced turnovers, tied for fourth in sacks, second in quarterback hits and best against the run in numerous categories.
Fun fact: the mighty Saints defense allowed or opponents 30 or more points in more games than the Bucs did. But it's neither a perfect defense nor any kind of historic unit. They struggled often on third down, ranking 19th in the league after finishing fourth in 2019.
It's why Joe has said the secondary that walked off the field last season was better than this year's version in many ways.
Regardless, one thing about the Bucs defense is clear to Joe and three-time former Pro Bowl cornerback DeAngelo Hall.
In the NFL Network video below, Hall lays out his belief that Devin White and Lavonte David are the best inside linebackers in the NFL. He likened them to NaVorro Bowman and Patrick Willis, the multiyear All-Pro tandem that got the 49ers to two Super Bowls in the last decade.
Of course, those guys got loads of honors that have escaped David and White.
When Joe heard the names of Bowman and Willis, Joe immediately thought of how short their careers were. It's a great reminder of why the Bucs have to win now. Nothing can be taken for granted in the NFL.
"These two are the best middle linebackers in the National Football League." 👀@DeAngeloHall23 has his eye on a tandem out of Tampa Bay. 👇

📺: @NFLTotalAccess pic.twitter.com/sq6YoOFYbP

— NFL Network (@nflnetwork) January 28, 2021