Cam Jordan Thinks Saints Are Permanently In The Buccaneers' Heads
January 13th, 2021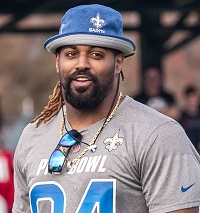 Joe really looks forward to the Bucs' tackles making Saints defensive end Cameron Jordan choke on his trash-talking words.
Joe has had great 1-on-1 interactions with the six-time Pro Bowler and likely future Hall of Fame defensive end, including when the photo above was taken, but Jordan has earned official asshat status when it comes to his disrespect of Tampa Bay.
Who could forget his public and intentional humiliation of Donovan Smith in March of 2019? And there are other examples.
Jordan found his way to The Rich Eisen Show this week and claimed to know what the Bucs are thinking and how the Saints have scarred their collective mentality.
"The last time we played will probably forever leave a mark on their mind coming into our dome again. What was the score, 38-3?" Jordan said.

"So I mean, you know it's going to be screaming revenge; you can probably start that up as soon as they beat the Washington Football Team that they were screaming [revenge]. … We have to play our best ball to get this game. I mean, when I say 'they're going to be in their bag,' they're going to throw things that we haven't seen before. They're going to, you know, try and analyze what happened to them the first time as well as what happened to them the second time to try and prevent what we'd like to happen a third time."
Jordan dismissed the notion that the Bucs will be a better team in Round 3 of Saints-Bucs this season. He rattled off the many big Bucs names on both sides of the ball and said Tampa Bay is loaded with talent. Jordan says he sees the same team the Saints owned twice, though he conceded that the Bucs will bring "even more problems that we have to solve."
Man, Joe sure hope the Bucs can shut this guy up on Sunday. No Saints player (who actually plays) deserves it more.
---
Enjoy the Ira Kaufman Podcast, presented by Bill Currie Ford.