Bruce Arians Talks Rob Gronkowski: "That Was The Gameplan For Him"
January 13th, 2021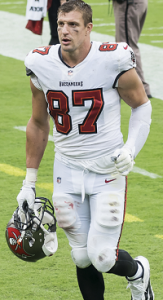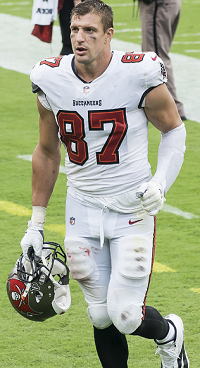 Rob Gronkowski struggled in the passing game early this season and firmly told media that he had become a blocking tight end.
Gronk was having a little fun with his role and the September rust on his routes, but there was plenty of reality in that comment. The Bucs needed him to block and he was willing to do whatever dirty work was necessary.
Most Bucs fans and NFL observers have been shocked to see Gronk start every game this season (the first time he's ever done that) and grind through 75 percent of the offensive snaps.
All that from a guy who left the game battered and broken down a little less than two years ago.
Gronk had just one target on Saturday night against Washington, but he had plenty of 1-on-1 matchups with ferocious edge rushers.
Bucco Bruce Arians loved every minute of it, as he told the nation tonight with a lot of passion in his voice on SiriusXM NFL Radio.
"Gronk had a great game pass protecting and blocking. That was the gameplan for him," Arians said. "And I love Gronk because he's, 'Hey, coach, whatever it takes to win."
Gronk has walked the walk this season, willing to get dirty and nasty while having less targets a game than he's used to.
As great as the pass blocking was on Saturday, Joe just about expects the Bucs to approach the Saints the same way on Sunday.