"I Came Here To Block, Baby."
September 25th, 2020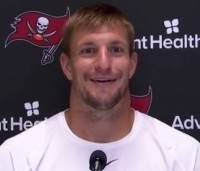 Rob Gronkowski knows he's been invisible in the Bucs' passing attack, and he was all smiles about it today while being peppered with questions trying to get to the bottom of his lack of production.
Gronk would not play along.
"I'm a blocking tight end. You know, I came here to block, baby," he proclaimed with sarcasm in his voice.
"So four targets is four more than I thought I was going to get. Yeah."
Gronk repeated his blocking tight end line when asked again about his red zone work in past years. He added that game plans change and he's used to big games and then getting just a few catches the following week.
Joe jumped in and played along with Gronk, asking him to grade his blocking since he's now a blocking tight end.
"I feel like my blocks, you know, as a blocking tight end, have been pretty good," Gronk said. "But now I'm a blocking tight end so I gotta up my game a little bit, for sure. And that can definitely improve, technique, form and all that; that's what helps your game big time."
Joe's not worried about Gronk. If he turns out to just be mainly a blocker and the Bucs win, then Joe can live with that. Yeah, in that scenario Gronk would be a waste of money, but for a one-year deal to make Tom Brady happy, it's all good.