A Super Bowl Offensive Line
January 24th, 2021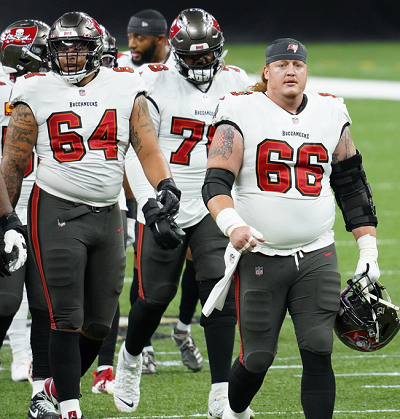 Joe is loving typing Super Bowl and Bucs in the same sentence.
What a glorious time to be alive.
The Bucs are in the Super Bowl, therefore they have a Super Bowl offensive line. Joe's types that obvious fact because Joe is so damn happy for these guys.
For years, the offensive line's core has been blocking for top-10 NFL offenses, including this season, yet too many fans kept barking that they collectively were a rotten stain upon the good fans of Tampa Bay.
Donovan Smith wasn't perfect today, but the Packers get paid, too, and Tom Brady had all kinds of time to throw much of the game. Ali Marpet is a Division-III warrior who earned his stripes as a true top-10 guard in the NFL. Ryan Jensen is working on two solid seasons in a row, and what can Joe say about Aaron Stinnie, who just finished his second career start at right guard; he has done much more than hold up alongside all-world right tackle Tristan Wirfs, the Bucs' rookie of the year.
The Bucs have a damn good offensive line. That's correct. The haters can choke on it. And there's not a team remaining in the AFC that should be able to eat the Bucs' offensive line for lunch in two short weeks.
Take a bow, men.
Bucco Bruce Arians arrived in Tampa two years ago, looked around at the offensive line and said, "We're good."
The core remains the same and the coaching and Tom Brady took them over the hump.