Warrior Mike Evans
December 20th, 2020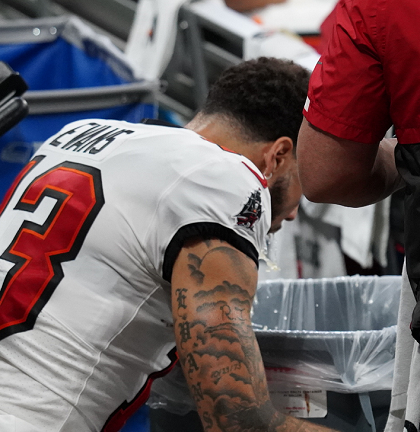 Joe apologizes for the graphic nature of the photograph, but it's not every day that you see a guy significantly ill on the sidelines head back into a football game.
That's Mike Evans.
Joe is so damn happy for Evans that the Bucs are just one win from the playoffs, which would be Evans' first postseason appearance since he was the Bucs' first-round pick in 2014.
Joe has the benefit of a photographer/videographer at most Bucs games, a digital legend with a great camera and knowledge of football. So Joe gets to see all kinds of stuff that don't appear on these pages.
The photo of Evans hurling into a trash can was taken in the third quarter and he returned to the field after the sickness session. Evans led the Bucs with 110 yards receiving on six catches.
It was his first 100-yard day since Week 4 against the Chargers. Joe will guess that was the longest streak of Evans' spectacular career.
Evans sits at 779 yards receiving this season with two games to play. If he hits 1,000 yards, then he'll set a new NFL record for most consecutive regular seasons over 1,000 yards to start a career.
Joe hopes Evans gets there, but this post is about celebrating all that Evans is and his commitment to winning.
As Bucco Bruce Arians says, he's never been around a more selfless receiving duo than Evans and Chris Godwin.
Joe hopes Evans is felling well. Joe can't blame the heat, as the Bucs topped the Falcons in a dome.