Tom Brady Sets New Franchise Record For TD Passes
December 26th, 2020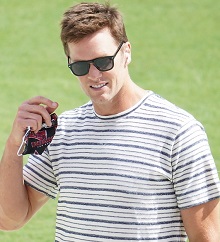 If you thought Jameis Winston had a pretty good year last season, then what the hell do you call what Tom Brady has done?
Joe has never seen a Buccaneers quarterback have such a monster season.
Today, Brady busted the Tampa Bay franchise season record of 33 TD passes, set by Jameis last season. Brady finished 22-of-27 for 348 yards and four touchdowns — in the first half! It was all Blaine Gabbert from there.
Now Brady has a total of 36 touchdowns against just 11 interceptions for the season. What a stunning difference a year makes at the most important position on the field.
What a move it's been signing Brady and Joe is taking pause. Here he is at 43 years old giving Father Time the middle finger.