Tom Brady Has A Sunday Message
December 27th, 2020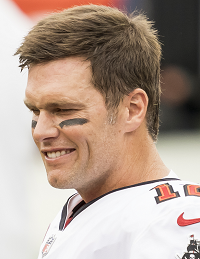 The Goat is up and talking to fans.
It's a post-victory ritual for Brady, who loves to fire up Buccaneers fans on social media.
"We know there's a lot more ahead," says Brady, who acknowledged "I'm happy to be 10-5."
It feels like, for now, Brady's emotional challenges are behind him and he's steaming with confidence. And he should be; look at how the 43-year-old dude has slung the ball around the past two weeks. Wow!
Joe really believes the Bucs gained a huge advantage by clinching the playoffs with a week to go during the regular season. That gives Brady a week to shake the shock and awe out of his newbie teammates and set heightened practice and preparation tone.
Brady's video is below.
— Tom Brady (@TomBrady) December 27, 2020