"They Are Built For The Postseason"
December 29th, 2020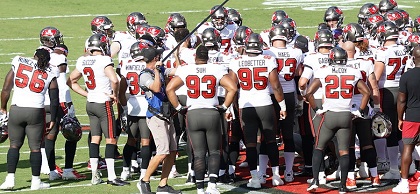 This fired up Joe last night and there's nothing inaccurate here.
The man who finished his final five NFL seasons with more than 1,200 yards rushing and 52 receptions in each year (let that beastliness sink in) is also the brother of Buccaneers legend Rondé Barber.
Of course, Joe's talking about Tiki Barber, who has a prime time show on CBS Sports Radio.
Barber is a reasoned and seasoned analyst who doesn't play a lot of favorites. He's been skeptical of the Bucs, even though he openly says Bucco Bruce Arians is family to him.
Yesterday, Barber jumped on the Bucs bandwagon and strapped on his seat belt.
"Quietly, they have a guy in Rob Gronkowski we don't really talk about a lot. He's got 600 yards and seven touchdowns — and he's like the fourth option. You know what I mean?" Barber said.

"They are built for the postseason; let's put it that way. I think because of Gronk's experience and Tom's experience, but also the youth and the enthusiasm of [Chris] Godwin and Mike Evans. I mean, obviously this offensive line has got some young pieces, and if Ronald Jones is right, they have everything you need. Defensively they're pretty good, too. I buy the Buccaneers. I think it just took some time for them to get consistent."
Barber made it very clear he thinks the Bucs have what it takes to get to the Super Bowl. And he emphasized that the Bucs deserve a ton of credit for how they beat the Lions, even though it's just the Lions.