Who Is Laughing Now?
December 29th, 2020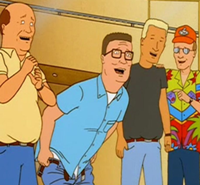 Though neither of the two future Hall of Famers will admit it, two Bucs stars are no longer in New England because they grew tired of the infamous Patriot Way.
Or, to be more precise, the heavy hand of Bill Belicheat.
Belicheat, in Joe's eyes, is the greatest NFL coach who ever lived. He's surpassed Bill Walsh and Vince Lombardi.
While Belicheat racked up wins, there was a price to pay for the players.
If you read enough or do a modicum of research, it seems both park-violating, home-invading, NFLPA-ignoring, down-forgetting, handshake-stiffing, jet-ski-losing, biscuit-baking Bucs quarterback Tom Brady and Bucs tight end foot-rubbing, car-littering Rob Gronkowski didn't leave the Patriots on good terms.
Gronk retired (temporarily) to get away and Brady preferred Tampa Bay. Vinnie Iyer of Sporting News types that Belicheat doesn't look overly smart now that Brady and Gronk are leading the Bucs to the playoffs while Belicheat has his first losing season since 2000.
You might remember the story Gronkowski shared during his time as Fox NFL studio analyst. There was a point that Belichick and the Patriots were about to trade Gronkowski to the Lions. Gronkowski explained he avoided the trade by saying he was retired before he actually was.

After Gronk shared the story, he let out the most infectious laugh, proud of how he pulled one over on the Patriots. There should be plenty of "ha ha has" in how he's also enjoyed proving, along with the Brady, that he was nothing close to worn down or washed up from his last days in New England.
Joe remembers Brady recounting on "The Howard Stern Show" how his wife, international-famous supermodel Gisele Bündchen, threatened divorce if Brady continued to be married (in words only of course) to the Patriot Way/Belicheat.
Brady and Gronk sure seem to be having fun playing football in the Florida sun, returning to the playoffs once again.
And Belicheat remains grumpy with the losses mounting in frigid New England.
🙃🙃🙃 pic.twitter.com/aETXv0idYA

— Christian Arcand (@ChristianArcand) December 29, 2020