Secondary Injury, Secondary Woes
December 20th, 2020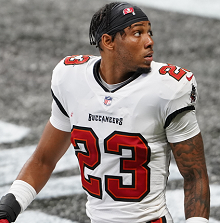 Sadly, the Bucs have a new injury in their secondary, and that's not Joe talking about the potentially wounded prides of Carlton Davis and Sean Murphy-Bunting, aka Sean "Burn Me" Bunting.
Davis injured his groin and was pulled from today's thrilling win in Atlanta. It was the first significant time he has missed all year and Joe winces at the thought of Davis' injury being one that lasts through what's left of this season.
Bucco Bruce Arians said Davis' groin stiffened up at halftime and it's been something he's been dealing with this season.
Damn, the Bucs need Davis to return to the Pro Bowl form he showed in Weeks 1 through 8. Since then, his production has dropped significantly and he's looked more like a bottom-tier No. 1 cornerback. An aggravated injury isn't going to help him get back there.
Predictably, the Bucs' pass defense is its weakest link. That's what happens when you start the season giving three jobs to 23-year-old cornerbacks, plus a 23-year-old safety and a rookie alongside him.
Joe is most distressed by the play of Murphy-Bunting. Yeah, Todd Bowles always has a lot of praise for him, but the film doesn't lie and the 39th overall pick in last year's draft has regressed.
Before getting burned multiple times today, Murphy-Bunting had just two official passes defensed all season.
Jamel Dean made a nice return today from injury. Joe's hopeful Dean can get back to where he was early this season and that today was a great shot of confidence for him.
Yes, the Bucs are winning, but that secondary has to tighten up a lot to play playoff-caliber football.