Candid Talk From Bucco Bruce Arians
December 20th, 2020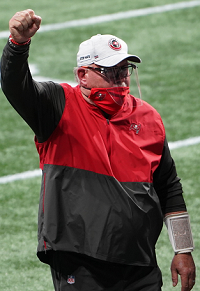 Bucco Bruce Arians knows he has a ridiculously unique and rather strange football team that sits with a 9-5 record on the cusp of the playoffs.
Good luck figuring out the consistently inconsistent Buccaneers.
They're the team with a freakish old quarterback, a porous but big-play defense, a massive coaching staff and a veteran roster that sputters regularly to start games and finishes like wild animals.
Very little about the Bucs' slow starts makes sense, and that was further magnified today when they trailed 17-0 to the bumbling Falcons. Fast starts were a focus before the bye week and now two games after the bye the Bucs continue to stink up the field early in games.
On the Buccaneers Radio Network postgame show, Arians acknowledged that he's not getting through to the team. Joe doesn't have the exact quote, but that's what Arians said, noting he's been harping on fast starts for weeks and it's just not working.
Joe will suggest that now it's time for a radically different approach.
Arians mentioned that Jason Pierre-Paul was adamant to the team at halftime that there was nothing to say, just go out and play. Maybe Arians can work with JPP and other powerful voices on the Bucs to craft a new pregame attitude that hopefully will spark better starts. Why the Bucs defense continues to be outcoached early really troubles Joe. It just shouldn't be happening at the rate it is.
A suggestion: Joe would love to see Bucs officials lose the egos, call Wade Phillips and offer him $150,000 to come and consult for the rest of the season. Let him study the film and the preparation and throw in his two cents.
If Team Glazer won't pay the tab (which they would), then launch a Go Fund Me site and Joe would bet anything that Bucs fans would step up to the plate.
These days I don't have anything to do and all day to do it!

— Wade Phillips (@sonofbum) December 10, 2020