Rob Gronkowski Changes The Locker Room
December 16th, 2020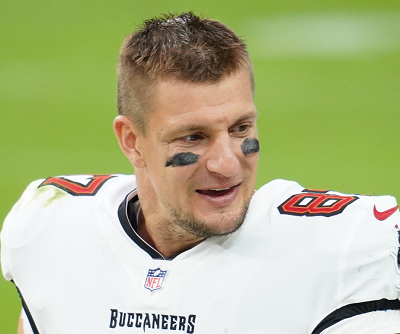 It seems there is a critical reason Rob Gronkowski is a Buccaneer, one that has nothing to do with him being a Hall of Fame producer at the tight end position.
Bucs receiver Scotty Miller was with the team last year when America's Quarterback, Jameis Winston, led the Bucs to their third consecutive losing season and their seventh consecutive start of 3-5 or worse.
Joe thinks those Bucs had a bad locker room, weighed down by too many guys infected with the pervasive stench of losing throughout The Lost Decade. Not even Bucco Bruce Arians was able to fumigate One Buc Palace successfully.
In comes Tom Brady and Gronk and things have changed markedly.
Miller hopped on SiriusXM NFL Radio this week and raved about how Gronk is such an impactful presence in the locker room.
And Joe found it highly interesting when Miller said it's clear that the age-gap with Brady and his teammates is real, "but I think Gronk definitely keeps [Brady] young."
Is Gronk a huge key to Brady's historic football Fountain of Youth?
Miller added Gronk's impact isn't just on Brady.
"Gronk's definitely a good character to have in the locker room. Gronk's awesome," Miller said. "He's definitely the biggest character we got. Just a funny guy always dancing around the locker room,  you know, doing all that sort of stuff. Really brings that energy every day, gives everyone one a positive vibe. … It's awesome to come to work here every day."
There's a divide at JoeBucsFan world headquarters. One Joe doesn't believe in leadership being a real difference-maker; the Joe typing here does.
In a season where players can't have postgame celebrations, can't hit the dance clubs, can't play golf on their days off, can't travel and are ordered to stay home before and after work, it sure feels extra important to have a guy like Gronk who makes the work day more fun and energizes teammates. And if Gronk is keeping Brady youthful with his attitude, antics and focus, then he's worth a lot more than the $9 million or so the Bucs are paying him.