Bruce Arians Gave A Rest Hint Yesterday
December 27th, 2020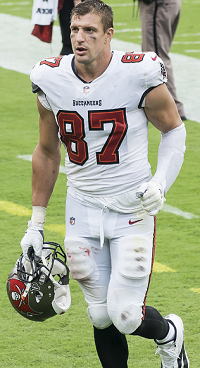 "We will approach this game as if it were Game 1 of the season and treat it like that every game. We don't want to set a pattern of different behavior. I don't think you get anything out of resting guys, especially playing a team that's in our division and we haven't beaten them at home in a couple of years. We don't want to start a precedent." Bruce Arians, Dec. 28, 2015.
So our beloved Buccaneers are in the NFL playoffs.
Hallelujah! Joe is so damn happy and relieved.
But what now in Week 17? The Bucs have locked up at least the No. 6 seed by virtue of the Cardinals' loss to San Francisco yesterday. The Cardinals are two games back of the the Bucs with one game remaining.
Next Sunday, if the Bucs beat the Falcons in the season finale at the Den of Depression (nickname ends with a "W), then the Bucs lock up the No. 5 seed and will travel to face the NFC East winner in the Wild Card round of the playoffs. If the Bucs' finish at No. 6 in the NFC, they'll be off to Los Angeles or Seattle (and have lesser chance to host the NFC title game, if they got there).
One could argue the Bucs would rather face the Rams or Seahawks, versus the ferocious defensive line of Washington, though Joe doesn't think that's a good argument.
Would Bucco Bruce Arians consider resting key players Sunday and value health of playoff seed? That's unclear.
Yesteday, Arians talked about wanting to get Mike Evans a new NFL receiving record in Detroit so he could rest Evans next Sunday. And you can read the quote above, which was Arians talking after the last time he clinched a playoff berth with the Cardinals during the 2015 season.
Arians also added back then. "Some guys get very stale quickly."
But to be fair, those Cardinals clinched a playoff bye, so the rest situation was different, though Arians did make that Evans comment. So Joe isn't sure what's in Arians' head.
If Joe were Arians, Joe certainly would at least rest Jason Pierre-Paul and Rob Gronkowski. JPP has chronic knee issues and Gronk is used to getting playoff bye weeks playing for the Patriots, so he certainly shouldn't fall into the stale category.