Todd Bowles On Tackling Issues: The "Want To" Is There
December 10th, 2020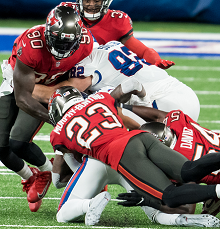 Bucs fans have watched tackling deteriorate in recent weeks and defensive coordinator Todd Bowles addressed that today.
First, Bowles talked about how the defense overall is stressing more fundamentals now, and he noted there was a little too much focus on what opponents have been doing.
Joe asked Bowles whether tackling woes have been about something more than just fundamentals, perhaps a mental situation?
Bowles replied that the "want to," aka effort, is there and he reiterated the talk of fundamentals and all the other things that go along with good tackling.
While the Vikings certainly aren't the Chiefs, Joe could see defensive players getting overly concerned about specific Vikings. Two-time Pro Bowl QB Kirk Cousins is getting hot; Dalvin Cook is the NFC's best running back, and rookie receiver stud Justin Jefferson already has busted the 1,000-yard mark with four games to play.
Joe will be keeping a close eye on tackling Sunday. It just has to get better, and what's extra frustrating is that the Bucs were more sound tacklers earlier in the season.