Zone Blues
November 24th, 2020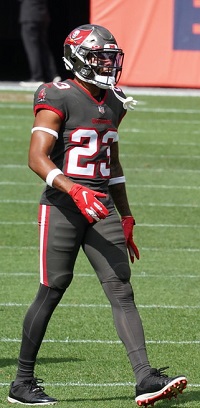 The Bucs' trio of cornerbacks is displaying a disturbing lack of improvement in zone coverage.
Week after week, bad things happen when the Bucs play zone. Shouldn't it be getting better?
It's really not too much to expect. Jamel Dean and Sean Murphy-Bunting are second-year players. They're hard workers and they have the athleticism required to be versatile.
Why aren't they figuring out zone coverage?
Carlton Davis is marginally better in zone, but he still seems like a fish out of water when compared to his man-coverage game.
Todd Bowles was a defensive back and knows the position about as well as anyone in football. So Joe is flummoxed, and Joe's head is hurt from banging it against the wall when the Bucs go to a three-man rush.
Yeah, that works at times, but Jared Goff just completed 77 percent of his passes.
Joe warned on the Ira Kaufman Podcast that the Rams duo of Robert Woods and Cooper Kupp were a bad fit for the Bucs with their underneath and zone skills, and they were the first healthy and super-dangerous tandem they had seen in a long time.
Next up is a very different threat in the Chiefs receiving corps. Joe hopes the Bucs figure it out in a hurry.