Two Big Plays From Cameron Brate
November 16th, 2020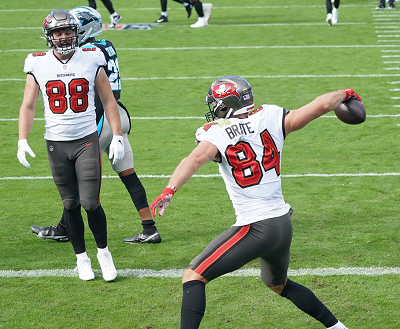 Yeah, Joe has celebrated a lot of big plays from yesterday's game, including from Ronald Jones and Jason Pierre-Paul on consecutive series in the second half, but Joe's not forgetting the two gems Cameron Brate turned in.
The first-quarter equalizer touchdown was caught by Brate on a third-and-goal. He had Defensive Rookie of the Year candidate contesting the catch and Brate's outstretched arms and glue-like mitts squeezed the ball at the goal line. Career touchdown No. 29 was a sweet one for Brate.
But the real beast of a play came later.
After a 2nd-and-6 catch for a first down in the second quarter, Brate re-emerged on 3rd-and-19 at 6:20 remaining in the third quarter with the Bucs leading 26-17 at the Panthers-42. It was a big play, and Brate delivered with 12 yards of YAC (yards after catch) following a short reception. The exclamation point was a leaping dive for the first-down marker while two Panthers drilled him at the knees.
The Bucs kicked a 21-yard field goal a few minutes later.
That was the end of Brate's real action for the day. He caught all three targets that came his way. Yet another weapon in the Bucs arsenal.