Todd Bowles And The 2-Man Rush
November 16th, 2020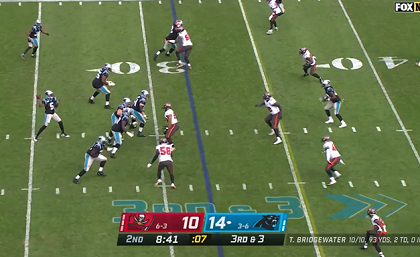 Most Bucs fans wanted a steady diet of blitzing yesterday against the Panthers, but that wasn't always the case, especially in short passing situations.
Joe watches all the Bucs film but doesn't do much writing about it here. Film chatter isn't nearly as exciting as some media types think it is. Plus, there's the variable of not knowing the actual players' assignments. Joe doesn't pretend to know what those are like other media and stat-site "graders."
But some things are obvious. Bucs defensive coordinator Todd Bowles was loving him some unique zone-type schemes in short-yardage situations yesterday.
Take the picture above. When's the last time you saw a two-man pass rush?
Joe thought it was odd that Bowles, in the first half, favored letting accurate Teddy Bridgewater get comfortable and pick apart his defense in short passing downs. This play was complete over the middle as the pass went past a flailing Will Gholston in coverage.
Overall, the Bucs had a strong defensive day after their rough first quarter. Bowles certainly keeps things interesting and unpredictable.