Turning The Tables On Bruce Arians, Mike Evans
November 9th, 2020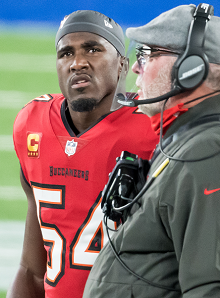 After the Bucs had a comeback win against the Chargers, Bucco Bruce Arians declared his team would have had its ass kicked in that game if it occurred one year ago.
Following Monday's tight win against the Giants, Mike Evans had a similar refrain.
Joe thought both of those takes were off base and made that clear on episodes of the Ira Kaufman Podcast. Reality didn't jibe with those comments.
But hey, it's the head coach and the greatest receiver in Bucs history, and they are quite knowledgeable.
Well, here we are following the Bucs getting annihilated 38-3 at home against the Saints last night. Last year, the Bucs never scored less than 17 points in a game and that happened just twice, and none of their points in those games came in "garbage time." The only time in 2019 they allowed 38 or more points in regulation play was in a two-score victory against the Rams.
So is it fair to say last night's blowout to the Saints wouldn't have happened last season?
Joe's not going to answer the question because it's a senseless take, just like those of Arians and Evans after games earlier this season. This year isn't last year, and last year isn't this year.
The Bucs, however, did rank third in scoring and in total yards in 2019. For this season, they're middle of the pack in yards and, per Joe's quick math, rank No. 10 in scoring.
Again, this year is not last year — and vice versa.