Too Many Angry Bucs Fans
November 24th, 2020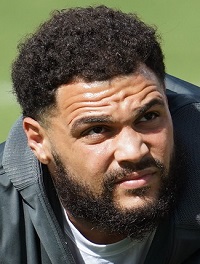 It feels like two-thirds of Bucs fans really believed in their hearts and souls and minds before this season that the Bucs would win 11 or 12 games.
And that reality (albeit misguided) has created an enraged sect of fans as the Bucs sit at 7-4 and in great position to win 10 games and make the playoffs.
Prior to opening day, Joe thought the Bucs were a 10-win team for a variety of reasons. And Joe would view a 10-win season, which represents a virtual playoff guarantee in the expanded 2020 postseason format, as a major step for the franchise.
Heck, if Tom Brady made it through a 10-win season healthy and ready for another year of football, then that would be an even bigger bonus on top of first-time playoff experience for so many Bucs that have endured years of losing.
As Joe types this today, Joe knows the Bucs will be heavy favorites in two remaining games against the deplorable Falcons (3-7), and against a bad Lions team that's been blown out in three of its last four games.
The Lions will play the Bears, Packers and Titans in the three weeks before hosting the Bucs on Christmas weekend, a recipe for the Lions mailing in another season before they even face the Bucs. Tampa Bay also will be favored at home against the Vikings (4-6) and their horrendous defense on Dec. 13.
That's quite a desirable stretch of games after an early-December bye week for the Bucs.
One might think Bucs fans would be feeling pretty good about themselves, despite giving away a game to the Rams last night. Rams manbeast Aaron Donald was rendered invisible, and the Bucs run defense was suffocating while the defense overall played well enough to win. With just a little better quarterback play, the Bucs would have won easily.
But no, optimism is scarce this morning and the loud crowd is getting louder.
Unfortunately, their expectations balloon is primed to be completely popped Sunday by the mighty Chiefs, and they'll be in agony all through the bye week.
Joe hopes the angry crowd can relax and see through the clouds to the upside of what this season is on track to be.