Five Things
November 24th, 2020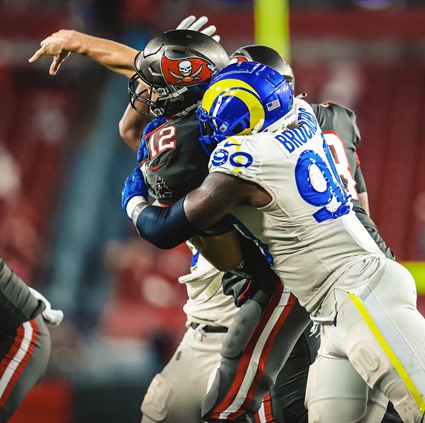 Look at the bright side: At least the Bucs didn't get blown out (again) in primetime!
Waiting too long.
So last night in the first half, Jared Goff and the Rams absolutely bludgeoned the Bucs defense with short passes, many for receiver Cooper Kupp, who then broke tackles that turned into big gains.
After the game, Bucs coach Bucco Bruce Arians didn't deny the defense wasn't getting the job done in the first half. But twice in his postgame presser, Arians said that was fixed at halftime.
Why did the team have to wait until halftime to adjust?
True, the Bucs defense played its guts out in the second half and gave the Bucs a chance to win. That typed, whoever called the shot to change the defense (Arians, Todd Bowles?) waited too long.
Adjustments should have been made in the second quarter, maybe even earlier. Remember, the Rams, with exactly a minute left in the first half, took over at their own-19 and gashed the Bucs right and left before a Matt Gay 38-yard field goal 1 second before halftime. They led 17-14 at halftime and won 27-24.
Perhaps if those adjustments came earlier, Joe might just be typing a Victory Tuesday column right now instead of worrying if the Bucs will make the playoffs or not.
Joe isn't sure why these adjustments had to wait, unless someone on the sideline had an epiphany walking off the field that maybe the defense should stop getting clobbered with short passes.
Arians seems to be at wit's end.
When a head coach still cannot figure out his team three days before Thanksgiving, that's a bad sign. And Bucs coach Bucco Bruce Arians confessed last night after the giveaway loss to the Rams, he is still puzzled by his team's play.
"I'm still trying to figure that out," Arians said when asked inconsistency all season. "At times we look really, really good and then there are times where we obviously don't.

"I felt very, very comfortable in the two-minute drive until that [intercepted] throw. We made some plays and obviously we didn't make enough in this ballgame – offense, defense or special teams – to win."
Joe felt comfortable, too. Brady and the offense seemed to click in the fourth quarter. Running backs were making tough runs. Receivers were making clutch catches. And then… Arians asked Brady once again to throw deep, even though the past month he hasn't been able to hit the broadside of a barn over 20 yards.
Pick! Ballgame.
Arians better figure it out fast because the way Joe sees it, the Bucs have to win three of their final five games to have a shot at a wild card. One of those games is Sunday against the Chiefs.
Raise your hand if you have an ounce of confidence Tom Brady will outduel Pat Mahomes. Yeah, Joe didn't expect to see any hands either.
So that means the Bucs have to win three of their final four games to have a clear shot at the playoffs.
(Gulp.)
NFC South likely out of reach.
So now we can just about forget winning the NFC South title. The Bucs (7-4) are now two games behind the slimy Saints (8-2) with five games to play.
The important element here is that the slimy Saints have the tiebreaker. So the Bucs would have to finish a game ahead of the slimy Saints to win the division; a tie won't do it.
The Bucs would have to make up three games with five to play. The Saints' next three games are against the Broncos, Falcons and Eagles.
The way park-violating, home-invading, NFLPA-ignoring, down-forgetting, jet-ski-losing Bucs quarterback Tom Brady has morphed into Mr. Entertainment, America's Quarterback, Pro Bowler Jameis Winston (only without the deep ball touch), do you really believe the Bucs can make up three games with five to play?
Now the Bucs are looking at a wild card. And they just lost their tiebreaker with the Rams.
How good are the Bucs?
Yesterday, Joe brought word that three-time Super Bowl champion and current FOX Sports NFL analyst Troy Aikman thinks the Bucs are the best team in the NFL.
What say you?
The Bucs are 7-4. Like the Rams, the Bucs only have two wins against teams with a winning record. The Bucs beat the Packers (7-3) and the Raiders (6-4), with losses to the Saints (twice), the Rams and the Bears (5-5).
So are the Bucs a good team? Joe isn't sure just two days before Thanksgiving. They beat the teams they should beat (losers) but are 2-4 against teams that aren't losers.
Right now, the Bucs seem like a team just good enough to go nowhere in the playoffs. Sucks to write that, but that win over the Packers is now just a dot in the rearview mirror. The win over the Raiders feels like a long vodka-induced naughty night with a clothing-optional dancer during a-what-happens-in-Vegas-stays-in-Vegas adventure.
Is this guy really a goat in 2020?
Joe has always been hesitant to refer to park-violating, home-invading, NFLPA-ignoring, down-forgetting, jet ski-losing as "The Goat." Even back to his Belicheat days.
Why? Joe saw Joe Montana in his prime, and Joe saw Roger Staubach, who was Joe Montana before Joe Montana. Staubach turned losers into winners each week more than a Lotto scratch-off ticket.
Montana? Dude may not have as many rings as Brady but he also was undefeated in four Super Bowls and never threw a pick in a Super Bowl. Neh-vah.
Now when the Bucs signed Brady, everybody was giddy. Joe was in stunned disbelief for days he was so happy. However, is the Brady of 2020 the same guy the Bucs thought they bought this spring?
Brady of late has been more goat than GOAT. In his last three games, he has as many picks as touchdowns (hi Jameis!). And Brady has totally lost any semblance of accuracy on long balls (settle down, Jameis!).
Either Brady has totally melted down with his deep passes or Father Time is tapping on his shoulder. Joe mentioned last week that Brady had just one game throwing for over 60 percent completion percentage the latter half of the 2019 season.
Brady is throwing much better than the second half of last year if you try to forget his long ball.
Whatever is wrong with Brady, AriansLeftwich is selling Brady down the river by continually calling on him to attempt passes he clearly cannot complete any longer.
That, friends, is arrogance run amok.
Of late, Brady has sure played more like a smelly, four-legged creature than a guy who has been glossed greatest of all.
No quarterback with the weapons the Bucs have should ever have as many picks as touchdowns. Joe doesn't care what the guy's name or resumé is.