Tom Brady Talks Bruce Arians' Motivation
November 22nd, 2020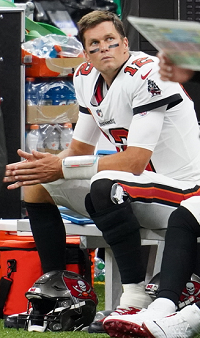 Much has been made of Bucco Bruce Arians not hesitating to call out bad Tom Brady plays publicly.
Arians did it early in the season and he did it again this month, though he covered for Brady when he forgot what down it was in Chicago.
Former Brady teammate Willie McGinest sat down with The Goat for a segment that aired this morning on NFL Network. They discussed various things Bucs, including the premise that Arians is the opposite of Bill Belicheat.
Brady didn't disagree, at least per the heavily-edited segment. McGinest noted Arians calling out his QB and Brady was all smiles about it, explaining Arians' words nicely complement Brady already beating himself up.
"He should be pissed at me," Brady said. "When you hear it from your coach, too, you know, it does motivate you."
Joe always expected Brady would appreciate and enjoy Arians' in-your-face style, and Brady noted Arians is hard on him in person.
As for Rob Gronkowski, it seems Brady legitimately thinks Gronk is breaking through. That catch-and-run against the Panthers last Sunday put a different kind of smile on Brady's face. "When he starts struttin' on the field, you know he's feelin' really good. He's a beast," Brady said of Gronk. "His ability has been unmatched."
Brady brought up being a "mentor" for bicycle-throwing, security-guard-loathing Antonio Brown, and Brady said he enjoys that role.