Tom Brady Points To 4 Reasons Antonio Brown Will Hit The Ground Running
November 1st, 2020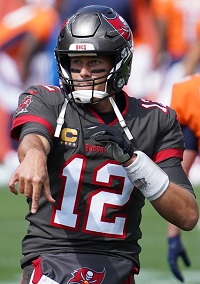 Tom Brady was chatting this weekend and he sounded like a man preparing for Antonio Brown to be shot out of a cannon when he first suits up for the Buccaneers one week from today.
During his BSPN TV sitdown with Randy Moss, Brady was asked about adding Brown to the roster and the Bucs' iconic quarterback reminded Moss that he had no preseason and almost no practice time with him leading up to opening day of the 2007 season, the first for Moss in New England.
Moss popped a hamstring early in the '07 training camp and was on the shelf until opening day. So what happened on opening day? Moss caught 9 balls for 183 yards and a touchdown.
In that same game, Wes Welker made his Patriots debut and hauled in six balls, including a TD. Brady noted Welker's Day 1 success, too, along with that of receiver Deion Branch in 2002.
Brady made it clear that instant success for receivers is standard assuming they can do their job, which for Brady is "get open, catch the ball and do something with it."
"Certainly, Antonio knows how to do that," said Brady, who also lauded Mike Evans and Chris Godwin for the same thing.
Interestingly, Brady said everyone has gotten to see how the Bucs offense changes (not for the better) without Chris Godwin.
Joe thought the Brown signing was too risky and unnecessary, but that's in the past now. When Brown puts on the jersey, Joe will cheer for the guy. However, Joe sure hopes Brown becomes more of the "insurance policy" Bucco Bruce Arians said he is.