Tom Brady Talks First Bucs Bonds, Team Priorities
November 1st, 2020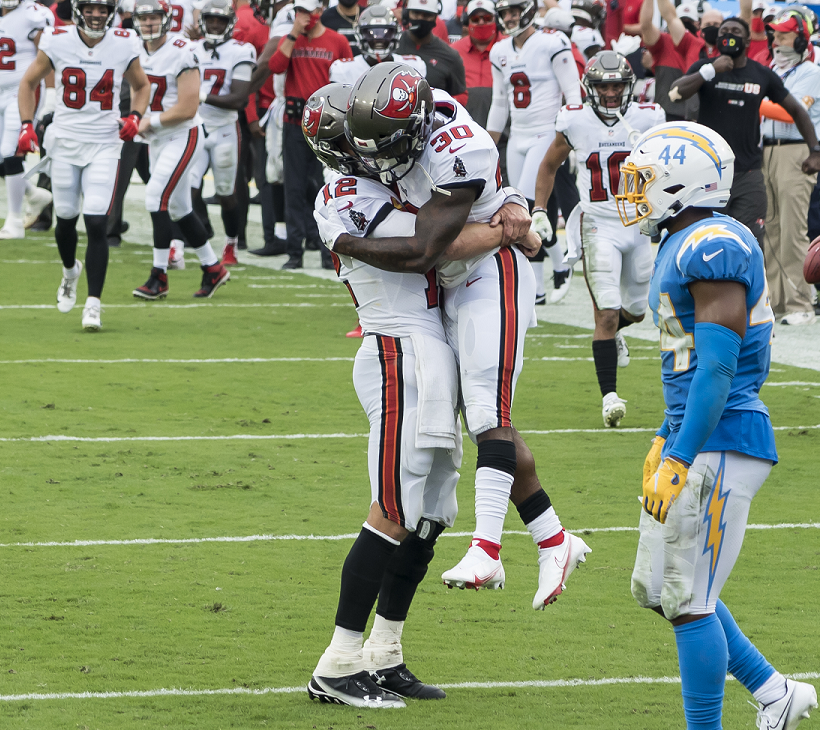 The NFC Player of the Month of October, legendary Bucs quarterback Tom Brady, had a televised sitdown with one of his old buddies this weekend.
Brady has a special place in his heart for former teammate Randy Moss, and Moss interviewed in him for BSPN.
Pressed by Moss to name and describe his first real interaction with a Bucs teammate, Brady explained that he moved to Tampa on April 1 and soon after realized that Cameron Brate, Scotty Miller and Chris Godwin were in town and training. And those three stepped up first to start the bonding process.
"I wanted to throw the football around. I was like, 'Fellas, let's get to work. What do we got to do?' said Brady, who went on to praise Ronald Jones, Mike Evans and O.J. Howard for later joining in, as well as Ryan Jensen for being selfless for working on snapping and cadence.
Moss wanted Brady to talk about the Bucs' postseason prospects, but Brady wouldn't go there. Instead, he opened a window to his mentality and likely how he lectures the team.
"If we put the preparation first, and the process is right and, you know the results will come. So I don't think too much about how many wins, how many yards, this that," Brady said. "It's like, 'how much of a commitment are we willing to make to do that right things on a daily basis?' [That] takes discipline, which when it takes discipline, it takes action, and you gotta have your actions match your priorities. So if our priority is winning, then what our choices are on a daily basis have to be prioritized to that."
Joe can't say whether the Bucs are up to the challenge of winning the NFC South and grinding their way to the top of the conference with, say, a 12-4 record. But they're in fantastic hands with Brady.