Plane Fiasco No Excuse For A Slow Start
November 15th, 2020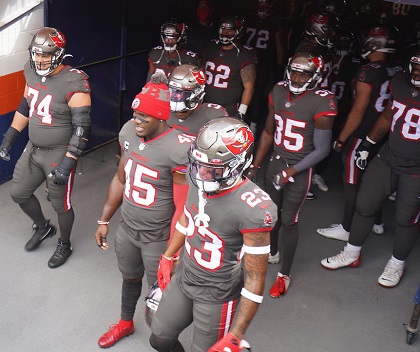 Man up and show up.
If you want to sell Joe on the Bucs plane to Charlotte getting delayed seven hours affecting them in the fourth quarter today, ok, Joe will buy that. But the travel hiccup is no excuse for a third consecutive slow start by the team.
No way. Don't ask Joe to buy that nonsense. And you know what, Joe doesn't expect it to happen. This team is loaded with experience and men considered strong leaders.
Before the Bucs faced the Giants two games ago, they were averaging a whopping 18-plus points in the first halves of games.
Think about that total for a minute. The Bucs were jumping all over teams, scoring more than 20 points in the first half in four of seven games.
And then came the Giants; the Bucs put 6 points on them in the first half. A week later the Bucs literally did nothing against the Saints in the first half. That's represented bad playcalling, bad leadership and bad execution.
It cannot happen today. Joe doesn't care if the bus to the stadium gets stuck in traffic.
This Bucs team can and should be ready to explode from the opening whistle, hopefully en route to a strong win against a lesser and reeling opponent. Anything less than that kind of start and everyone at One Buc Palace will need to reassess what the hell they're doing.