Murphy-Bunting Is Re-climbing The Ladder
November 20th, 2020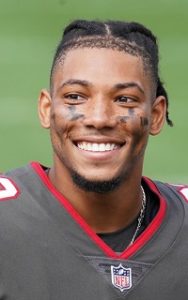 Cornerback Sean Murphy-Bunting had a rough stretch in his primary gig of covering wide receivers.
He lost his starting outside corner gig this season after the Bucs walloped the Raiders, and he's been basically the Bucs' nickel cornerback almost exclusively since then, yielding the starting job to Jamel Dean.
Joe's film review reveals that Murphy-Bunting looked significantly improved against the Panthers, and that's not counting his heroic special teams tackle of a kick returner deep in Buccaneers territory.
So Joe asked Bucco Bruce Arians yesterday about the Murphy-Bunting revival and whether it's enough to get him back to his starting role. Arians wouldn't go there on making a lineup call, but he emphatically acknowledged that Murphy-Bunting has his "swagger back" and is back on the rise.
Monday night's game against the Rams brings the challenge of receivers Robert Woods and Cooper Kupp, as well as a short-passing game the Bucs aren't used to seeing. Joe has no doubt that Murphy-Bunting will be tested.
Before this season, Joe wrote many times that of the Bucs' three young cornerbacks who were gifted prime jobs, Jamel Dean, Carlton Davis and Murphy-Bunting, two must make significant leaps for the Bucs to be a playoff team. So far, Davis has made the jump, while Joe can't call that yet for Dean and Murphy-Bunting.
Hopefully, they have a strong stretch run and make the second-year improvement common among excellent players. Murphy-Bunting seems back on track.