Ira Kaufman's 10 Takeaways From Bucs-Panthers
November 15th, 2020
BY IRA KAUFMAN
The road trip from hell turned out rather heavenly.
The Bucs overcame a 7-hour airplane delay and a first-half holding pattern en route to a decisive victory in Charlotte. In sweeping the Panthers, Tampa Bay imposed its will on both sides of the ball in the final 30 minutes, erasing the painful memory of the debacle against the Saints.
Tom Brady had time to throw and Carolina paid the price as the Bucs rolled up 30 first downs and scored on nine consecutive possessions.
Ronald Jones redeemed himself in a big way after an early miscue and defensive players tackled well and kept everything in front of them. While a loss would have sent Buc Nation into panic mode, this game reminded us what this team is capable of.
The Panthers may have been 3-6 with a 4-game losing streak, but they were competitive in most games, including an inspired effort at Arrowhead last week.
That 7-3 mark isn't too shabby for a Buc team which won't hit the road again for the next five weeks. By that time, they could have a playoff berth well in hand, especially if Brady remains healthy and Antonio Brown remains hungry.
Here's how the Bucs broke a halftime tie and ultimately broke the spirit of a gritty opponent:
* We thought this would be the best offense in Buc history — and it looks that way. Tampa Bay is on pace to score a franchise-record 474 points and Carolina's defense had no answers. The Bucs converted 10-of-16 on third down and never punted. A little better play in the red zone and this group would have threatened the club record of 55 points set last year against the Rams. For the fourth time this season, the Bucs scored at least 38 points, already setting a franchise mark with six games remaining.
* Ronald Jones needed a game like this and a run like that for his lagging confidence. After three consecutive 100-yard efforts, he had been in a slump the past three weeks with 23 carries for only 66 yards. Then an early fumble off a reception prompted more dismay before he reeled off the 98-yard burst that busted a tight game wide open. Buc fans watching Jones sprint downfield were torn between chants — "Don't get caught," and "Don't fumble."
* On the longest play from scrimmage in Buc history, Ryan Jensen and A.Q. Shipley provided textbook blocks that are sure to generate plaudits from line coach Joe Gilbert this week.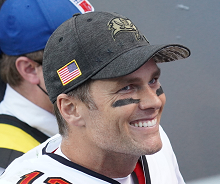 * Brady bounced back from a lopsided loss in a big way, surprising no one familiar with his history. He threw some darts on Sunday and always seemed to be one step ahead of the defense. He averaged 8.7 yards per pass attempt while Teddy Bridgewater spent most of the afternoon dumping the ball off for 4-yard gains.
* Antonio Brown was a focal point of the game plan, and it showed. Targeted eight times, he led all players with seven receptions and it was good to see him on the punt return unit. Brady did a good job of keeping Brown, Mike Evans and Chris Godwin happy … not an easy task.
* Overall, the Buc defense played a very strong game. Two of Carolina's touchdowns were set up by Cannon's return and Jones' fumble at the Tampa Bay 33. Bridgewater was ineffective in the second half as Todd Bowles implemented some adjustments. Why did the Bucs finish with 30 more snaps than the Panthers? Start with Carolina's 1-for-9 success rate on third down.
* It was a mixed bag for the special teams. Ryan Succop made all four of his FG tries, but he misfired on an extra-point attempt. Give the Bucs credit for anticipating a fake punt, but Keith Armstrong's group deserves a big demerit for allowing a 98-yard kickoff return by Trenton Cannon.
* The Panthers surely missed Christian McCaffrey, but they were thoroughly outclassed. Carolina's invisible pass rush allowed Brady to go through his progressions — a luxury that Drew Brees capitalized on against the Bucs a week ago. The lesson is simple: when Brady has ample time, there isn't a defense alive that can handle all these quality targets.
* All that said, this might have been a different game if Jones hadn't just tied for the third-longest run in NFL history. Think about that. This league has been going for 100 years and only Tony Dorsett and Derrick Henry broke off longer runs from scrimmage. That's pretty good company, Mr. Jones.
* After all the angst generated by the Saints game, the Bucs responded in grand fashion. Sitting at 7-3, they can afford to split matchups against the Rams and Chiefs, both at home, and enter the bye week at 8-4. That would put them in fine shape to finish with at least 11 wins for the first time since 2005, when Cadillac Williams donated his cleats to the Hall of Fame and a miserable Buc offense donated a playoff game to Washington.