Carlton Davis Assesses Ronald Jones
November 23rd, 2020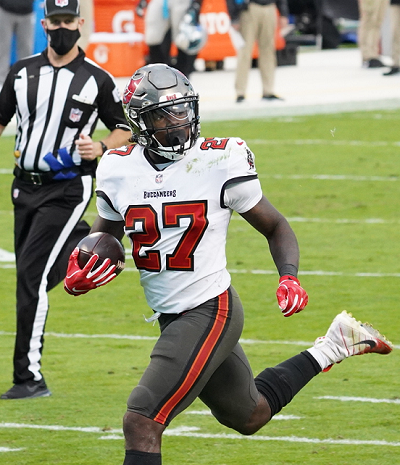 There's a whole lot of people throwing around the "C" word when they talk about Ronald Jones.
The beast of the Buccaneers' backfield is having a hell of a season following a rough rookie year and a sophomore campaign that had the Bucs eager to go out and sign Leonard Fournette, LeSean McCoy and draft a running back in the Round 3.
You don't even have to ask Bucs officials about RoJo's confidence and they start talking about it — and how it's very different than it was previously. It's a somewhat strange dynamic that Joe was about to put in the rear view mirror, but then cornerback Carlton Davis brought it up on Bucs Total Access last week without being asked.
Davis was a fellow 2018 second-round pick of the Bucs with RoJo, and the Bucs' rookie classes spend a lot of time with each other. At least they did prior to The Sickness.
Davis talked about how fired up he was when RoJo got his 98-yard touchdown run last week and Davis sprinted to greet him in the end zone.
It's a new RoJo, Davis explained, and it's got a lot to do with RoJo's mindset.
"He's been running really tough lately," Davis said. " He's been running so hard. And I think that's been the difference for him. He's trusting himself more. You can tell that his confidence has been going up tremendously. You know, hopefully he continues on this track …"
What a night for RoJo it is tonight against the Rams and their No. 2-ranked defense. It's a huge game on a huge stage, and RoJo played for the University of Southern California.
Yes, Joe's happy that RoJo is confident. But for tonight, Joe would be satisfied with improved hands and a steady game. RoJo doesn't need the home run, but the Bucs likely will need some form of consistency in the run game for Tom Brady to thrive.