Your NFC Defensive Player Of The Week
October 28th, 2020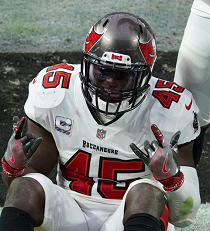 Let's hope this becomes a habit for the second-year pro.
Devin White's lightning speed was on display in Vegas, and it even seemed faster than usual.
That helped him score one of the NFL's high honors.
Congratulations to White for just winning NFC Defensive Player of the Week. It's the first for White. Shaq Barrett took the award home for his Week 3 performance.
The Bucs are the No. 3-ranked defense in the NFL, and through seven weeks, they have had two guys win player of the week honors and two earn player of the month; Lavonte David got the September honor and Antoine Winfield, Jr. took hope the rookie award for the same month.
That's impressive stuff.
White had three sacks Sunday, two coming when he violently shut down Derek Carr scrambles. He's the first Bucs player to ever have three sacks and 10 or more tackles in the same game.
Keep it rolling, Devin!
---
Great draft background here and more from Devin White, as he joins Buccaneers legend Derrick Brooks and The Sage of Tampa Bay Sports on TAMPA TWO. Great stuff from The Identity Tampa Bay and Joe.