"Tom Didn't Have Anything To Do With It"
October 26th, 2020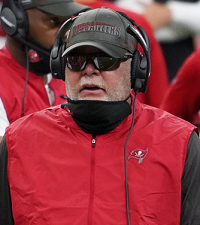 Late February has arrived early at One Buc Palace.
The misdirection smoke now seen swirling usually is the kind reserved for pre-draft chatter when NFL executives and coaches lie regularly.
Joe wrote recently about being very intrigued by the upcoming corporate spin job that would emanate from One Buc Palace regarding the signing of mercurial felon receiver Antonio Brown, and why the Bucs picked a guy everyone knows has a reputation for team-crushing deeds.
Well, the smoke came flying out tonight following the Bucs' clubbing of an overwhelmed Raiders team in Vegas.
Tom Brady? He didn't want to talk about Antonio Brown. Asked about Brown, Brady dodged the meat of the question like Joe maneuvering the Sweet Tomatoes (RIP) buffet to load up on chocolate pudding and whatever was the good pasta of the given day.
Bucco Bruce Arians was asked about Brown and Arians quickly said blame/credit GM Jason Licht.
"I think he's matured," Arians said of Brown, after saying this year that he thought Brown was a bad fit in his locker room.

"I believe in second chances. You know, Everybody wants to say that Tom picked him. Tom didn't have anything to do with it. This was something that Jason had been talking for a couple of weeks, ever since the injuries to our other guys. And when the time was right, would we see if we could pull the trigger and fit it into what we want to get done. And we'll see; if Antonio does what I think he's going to do, he's going to be fine."
So "Tom didn't have anything to do with it." … Yeah, ok, and Team Glazer has nothing to do with the overpriced stadium beer and Matt Gay was a hell of a kicker.
What next? Lots of people read the Bay area's twice-weekly newspaper that sits behind a paywall online?
Joe finds it silly that Arians is trying to shield Brady from potential Brown fallout if trouble arises. Why not just say Brady trusts him and likes him and we're all-in, baby?
Instead, Bucs fans get a goofy don't-look-at-Tommy line. Remember, Arians himself said Brady could pick his own No. 3 receiver.
Nobody in their right mind thinks Brown is here without Brady's desire and blessing.
Joe gets it.
Every other Bucs fan gets it.
But the Bucs want you to believe something else.