Ira Kaufman's 10 Takeaways From Bucs-Raiders
October 26th, 2020
BY IRA KAUFMAN
By one key metric, you could make a credible argument that the Bucs have been the most dominant team in the NFL this season.
No, they're not unbeaten, but the Bucs have outscored opponents 222-142 in fashioning a 5-2 record. That plus-80 mark in point differential is tops in the league.
Quite a rebound from that bitter setback at Soldier Field two weeks ago. Tampa Bay followed up a majestic final three quarters against Green Bay with a very solid win on the road against a Raiders team coming off a bye week and a confidence-boosting victory at Kansas City.
Jon Gruden wanted this win in the worst way and the Raiders hung in until a turnover and the relentless pressure exerted by Tom Brady proved decisive.
Since that shaky opening quarter vs. Green Bay, the Bucs own an 83-20 scoring advantage. The Packers are very good, the Raiders aren't bad and the Bucs just might be outstanding.
It's all coming together for this woebegone franchise. Antonio Brown is on his way, but at this point, the Bucs don't need much outside help in ending that 12-year playoff drought. They've been the talk of the league since Brady arrived and they still generate more than their share of national attention.
Here's how an all-in franchise cashed out in Las Vegas:
* Brady was simply spectacular in shredding a defense that had an extra week to prepare. When he wasn't firing darts to Chris Godwin and Tyler Johnson for scores, he was feathering gorgeous arching TD passes to Rob Gronkowski and Scotty Miller. That 127.0 passer rating was a testament to his accuracy and decision-making. NBC analyst Chris Simms was bowled over. "Is he 43? The way he runs and throws still, he's better now than he was 10 years ago."
* Brady couldn't have enjoyed all that success without stout protection. For the second consecutive week, he wasn't sacked and the Raiders registered only one hit against Brady. This offensive line has bounced back very well from that Thursday night loss in Chicago.
* On a day Mike Evans wasn't a major factor, Brady found nine different receivers. Gronkowski's sluggish September is behind him and his physicality is rubbing off on teammates. When the Raiders foolishly matched up against him with a much smaller defender, they paid a 7-point price.
* The NROTB show came out in full force. You know the story:. Nobody runs on the Bucs. A week ago, Aaron Jones carried 10 times for 15 yards. On Sunday, Josh Jacobs carried 10 times for 17 yards. Those are two of the better backs in the league. That's 15 consecutive games opponents have failed to rush for 100 yards against Tampa Bay. NROTB.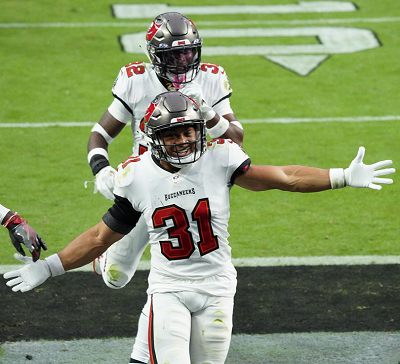 * This young secondary continues to make plays. A week after Jamel Dean turned the game around with a pick-6 against Aaron Rodgers, safeties Mike Edwards and Antoine Winfield combined for an interception against Derek Carr that set up a critical score in the fourth quarter. Buc coaches have done a nice job developing Edwards, who suffered through a difficult rookie year in 2019.
* Bruce Arians can't say enough about Chris Godwin, who caught all nine passes sent in his direction. Let's just say he's a special player.
* Devin White had a feeling he was going to play well against the Raiders, who bypassed him with the No. 4 pick of the 2019 draft. His instincts were on target as he posted all three of Tampa Bay's sacks and led all players with 11 tackles. White wants to be great. He's not there yet, but he ain't far off.
* While Ronald Jones saw his streak of three consecutive 100-yard rushing games come to an end, Leonard Fournette made his presence felt as a runner and receiver. Yes, it's nice to have quality depth in the backfield.
* When the game ended, Gruden knew he had lost to a better football team. Without an effective pass rush, the Raiders don't have the defensive talent to contain Tampa Bay's array of weapons — and it showed.
* The Giants aren't a good football team, but look out … this could be a trap game coming up. The Bucs can't afford to look ahead to the Nov. 8 rematch against the Saints, a prime-time matchup at home that could mark Brown's debut in a Tampa Bay uniform. This is where Brady's experience and competitive fire should keep the Bucs focused on the task at hand.